ENJOYMENT OF ENTERTAINMENT DALAM KONSUMSI MUSIK MELALUI PIRINGAN HITAM
Abstract
ormat apparently did not discouraged music fans to enjoy the content in a more conventional and analog format, including vinyl. Globally, vinyl consumption among music fans was increasing rapidly in these two recent years, including in Indonesia. Using qualitative approach with study case on vinyl collector representing youth age group in Jakarta, this paper explores the enjoyment acquired from music listening through vinyl. Using the enjoyment of entertainment concept, eight informantsrepresenting the youth age group, were interviewed to gain insights on how user prerequisites, motives, enjoyment experience and effect, drive music fans to enjoy content of music in the form of vinyl. The influence of family and friends, escapism and competition motives, were some of the factors that contribute in fans' enjoyment of experience in music listening through vinyl. Media prerequisites such as excellent sound quality and artwork of vinyl cover album, were viewed also as important factors.
Keywords: enjoyment of entertainment, music consumption, vinyl
Perkembangan musik digital tidak menyurutkan para penikmat musik untuk mengonsumsi musik dalam bentuk media yang lebih 'kuno' dan analog seperti piringan hitam. Piringan hitam, atau yang dikenal dengan sebutan vinyl, menunjukkan peningkatan konsumsi yang signifikan sejak dua tahun terakhir, secara global, termasuk di Indonesia. Penelitian kualitatif ini mengangkat studi kasus konsumsi musik pada kelompok anak muda kolektor piringan hitam di Jakarta. Penelitian bertujuan untuk memaparkan kesenangan yang diperoleh oleh kelompok anak muda dalam mengonsumsi musik melalui media piringan hitam. Dengan menggunakan konsep enjoyment of entertainment, delapan orang informan diwawancara untuk mengetahui bagaimana latar belakang pengguna, motif, pengalaman atau manifestasi serta efek yang timbul dari mengonsumsi musik melalui piringan hitam. Pengaruh teman serta keluarga, motif eskapisme dan kompetisi menjadi beberapa faktor yang berkontribusi untuk mendorong para kolektor ini menikmati musik melalui piringan hitam.Begitu pula dengan faktor media prerequisites seperti kualitas suara yang bagus serta artwork atau karya seni dari sampul piringan hitam tersebut.
Kata kunci: enjoyment of entertainment, konsumsi musik, piringan hitam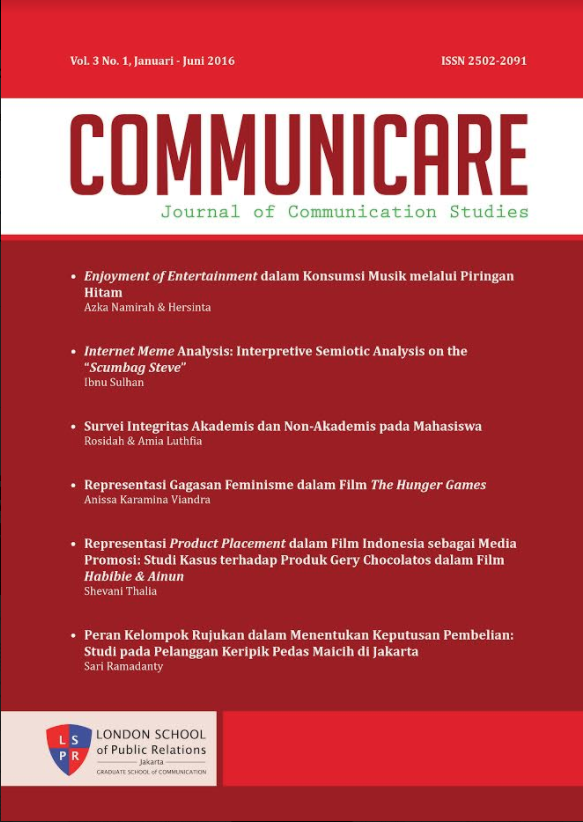 How to Cite
A, Hersinta; NAMIRAH, Azka. ENJOYMENT OF ENTERTAINMENT DALAM KONSUMSI MUSIK MELALUI PIRINGAN HITAM.
Communicare : Journal of Communication Studies
, [S.l.], v. 3, n. 1, p. 1-20, nov. 2017. ISSN 2502-2091. Available at: <
http://journal.lspr.edu/index.php/communicare/article/view/4
>. Date accessed: 02 july 2020.
Bagi artikel yang dimuat di Jurnal Communicare, berlaku aturan Hak Cipta sebagai berikut:
Jurnal Communicare adalah pemegang hak untuk mempublikasikan artikel untuk pertama kalinya.
Penulis tetap memegang hak cipta atas karya tulis yang terbit di Jurnal Communicare, dan dapat menggunakan karyanya dengan bebas, selama tidak melanggar peraturan.
Karya yang dimuat di Jurnal Communicare berada dibawah lisensi Creative Commons Attribution 4.0 International License