ANALISIS SEMIOTIKA JOHN FISKE DALAM TAYANGAN LENTERA INDONESIA EPISODE MEMBINA POTENSI PARA PENERUS BANGSA DI KEPULAUAN SULA
Trivosa Pah

Universitas Kristen Satya Wacana

Rini Darmastuti
Abstract
Lentera Indonesia is one of the documentary programs by television station NET TV. This program displayed the story from the people who struggled to bring positive thinking and impact to the community. This program has a lot of signs and meanings. This article will be explained about Lentera Indonesia's program edition "Building the potential of the nation's next generation in Sula Island, North Maluku Province" which aired on May 6th, 2018 and is located in the village of Lekokadai, Sula Island, Nort Maluku Province. This article conducted to find out the meaning of this episode. This article used a critical paradigm which is approached by John Fiske's semiotic method, consist of reality level, representation level, and ideology level. Seen from every story that has been built from section 1 to 3, this program has been shown: 1. The struggles of a young girl named Yosa who have been fighting for education in remote areas in Indonesia, with a personality that is simple, creative, has a characteristic of leadership, and easy to blend with the people surrounding himself.  2. People besides the main character who inspires, struggles, and willingness the others in limited facilities and electricity.3. Shown the potential of this place which has been named by city of music in Indonesia.
Keywods:  John Fiske; semiotic; Lentera Indonesia; Sula Island. 
ABSTRAK
Lentera Indonesia, merupakan salah satu program bergenre documenteryang dimiliki oleh stasiun televisi swasta NET.TV. Program ini menampilkan kisah perjuangan anak bangsa yang membawa dampak positif bagi masyarakat, yang sarat akan tanda-tanda dan pemaknaan. Tulisan ini akan membahas tayangan Lentera Indonesia episode "Membina Potensi Para Penerus Bangsa di Kepulauan Sula, Maluku Utara"yang tayang pada 6 Mei 2018 dan berlokasi di desaLekokadai, Kepulauan Sula, Provinsi Maluku Utara. Tujuannya adalah untuk mengetahui makna dari episode ini. Tulisan ini didasarkan pada paradigma kritis dengan mendekatan semiotika John Fikse. Kode-kode sosial yang dikemukan oleh John Fiske terbagi menjadi 3 tahapan yaitu level realitas, level representatif dan level ideologi. Dilihat dari setiap cerita yang dibangun dari segmen 1 sampai 3, tayangan ini ingin menunjukkan 1. Perjuangan seorang anak muda yang bernama Yosa dalam memperjuangkan pendidikan di daerah pelosok yang ada di Indonesia, dengan kepribadian yang sederhana, kreatif, tegas, memiliki sifat pemimpin, dan mudah berbaur dengan lingkungan sekitar. 2. Pelajaran hidup yang menginspirasi, semangat perjuangan, kebaikan hati dan kerelaan memberi yang datang dari tokoh-tokoh lain selain tokoh utama, dalam keterbatasan fasilitas serta listrik 3. Potensi anak daerah Maluku yang dijuluki sebagai city of music in Indonesia.
Kata Kunci: Semiotika, John Fiske, Lentera Indonesia, Kepulauan Sula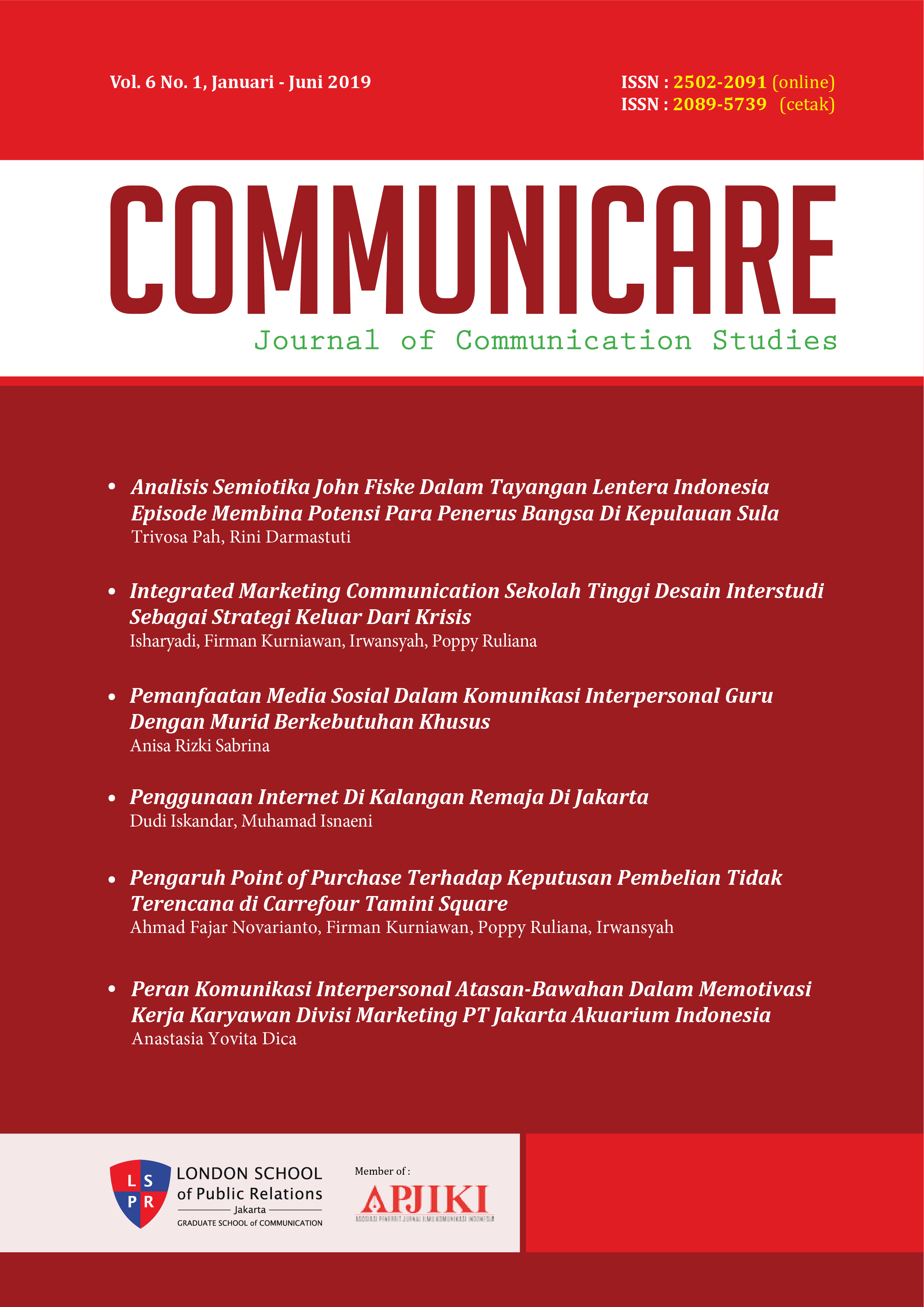 How to Cite
PAH, Trivosa; DARMASTUTI, Rini. ANALISIS SEMIOTIKA JOHN FISKE DALAM TAYANGAN LENTERA INDONESIA EPISODE MEMBINA POTENSI PARA PENERUS BANGSA DI KEPULAUAN SULA.
Communicare : Journal of Communication Studies
, [S.l.], v. 6, n. 1, p. 1 - 22, aug. 2019. ISSN 2502-2091. Available at: <
http://journal.lspr.edu/index.php/communicare/article/view/49
>. Date accessed: 06 june 2020.
This work is licensed under a Creative Commons Attribution 4.0 International License.
Bagi artikel yang dimuat di Jurnal Communicare, berlaku aturan Hak Cipta sebagai berikut:
Jurnal Communicare adalah pemegang hak untuk mempublikasikan artikel untuk pertama kalinya.
Penulis tetap memegang hak cipta atas karya tulis yang terbit di Jurnal Communicare, dan dapat menggunakan karyanya dengan bebas, selama tidak melanggar peraturan.
Karya yang dimuat di Jurnal Communicare berada dibawah lisensi Creative Commons Attribution 4.0 International License