PERAN KOMUNIKASI INTERPERSONAL ATASAN-BAWAHAN DALAM MEMOTIVASI KERJA KARYAWAN DIVISI MARKETING PT JAKARTA AKUARIUM INDONESIA
Anastasia Yovita Dica

student
Abstract
Communication within a company plays an important role in supporting an organization to achieve its goals. Not only to achieve goals, well-established communication can also build good relationships among workers. Communication that occurs within an organization will be more effective when it happens in the form of interpersonal communication. Interpersonal communication is considered to be one of the most effective ways to convey various information about job and motivation for employees. This qualitative research using the concept of interpersonal communication as its main concept. Also, it will be associated with employee's motivation in the marketing division of PT. Jakarta Aquarium Indonesia that happens every day and is held face to face or through chat. In this study, it is also found that interpersonal communication which occurred in the marketing division of PT. Jakarta Aquarium Indonesia runs quite well. So the decrease in work motivation of subordinates not because of interpersonal communication is less effective but because of the pressure and less cooperative attitude of other division employees make the work environment becomes less comfortable.
Keywords: Interpersonal Communication; Employee Motivation; Marketing Division; Qualitative Research.
ABSTRAK
Komunikasi dalam suatu perusahaan memegang peranan penting dalam mendukung suatu organisasi untuk mencapai tujuannya. Tak hanya untuk mencapai tujuan, komunikasi yang terjalin dengan baik juga dapat membangun hubungan yang baik antar para pekerja. Komunikasi yang terjadi dalam suatu organisasi akan lebih efektif bila terjadi dalam bentuk komunikasi interpersonal. Komunikasi interpersonal dinilai menjadi salah satu cara yang cukup efektif untuk menyampaikan berbagai informasi mengenai pekerjaan hingga motivasi kerja untuk para karyawan. Penelitian kualitatif ini menggunakan konsep komunikasi interpersonal sebagai konsep utamanya. Dan nantinya akan berhubungan dengan motivasi kerja karyawan pada divisi marketing PT. Jakarta Akuarium Indonesia yang terjadi setiap hari dan berangsung secara tatap muka ataupun melalui chating. Dalam penelitian ini pula ditemukan bahwa komunikasi interpersonal yang terjadi di divisi marketing PT. Jakarta Akuarium Indonesia berjalan dengan cukup baik. Sehingga penurunan motivasi kerja dari para bawahan bukan karena komunikasi interpersonal yang kurang efektif melainkan karena tekanan dan kurang kooperatifnya sikap dari karyawan divisi sehingga membuat lingkungan kerja menjadi kurang nyaman.
Kata Kunci: Komunikasi interpersonal; motivasi karyawan; divisi marketing; penelitian kualitatif.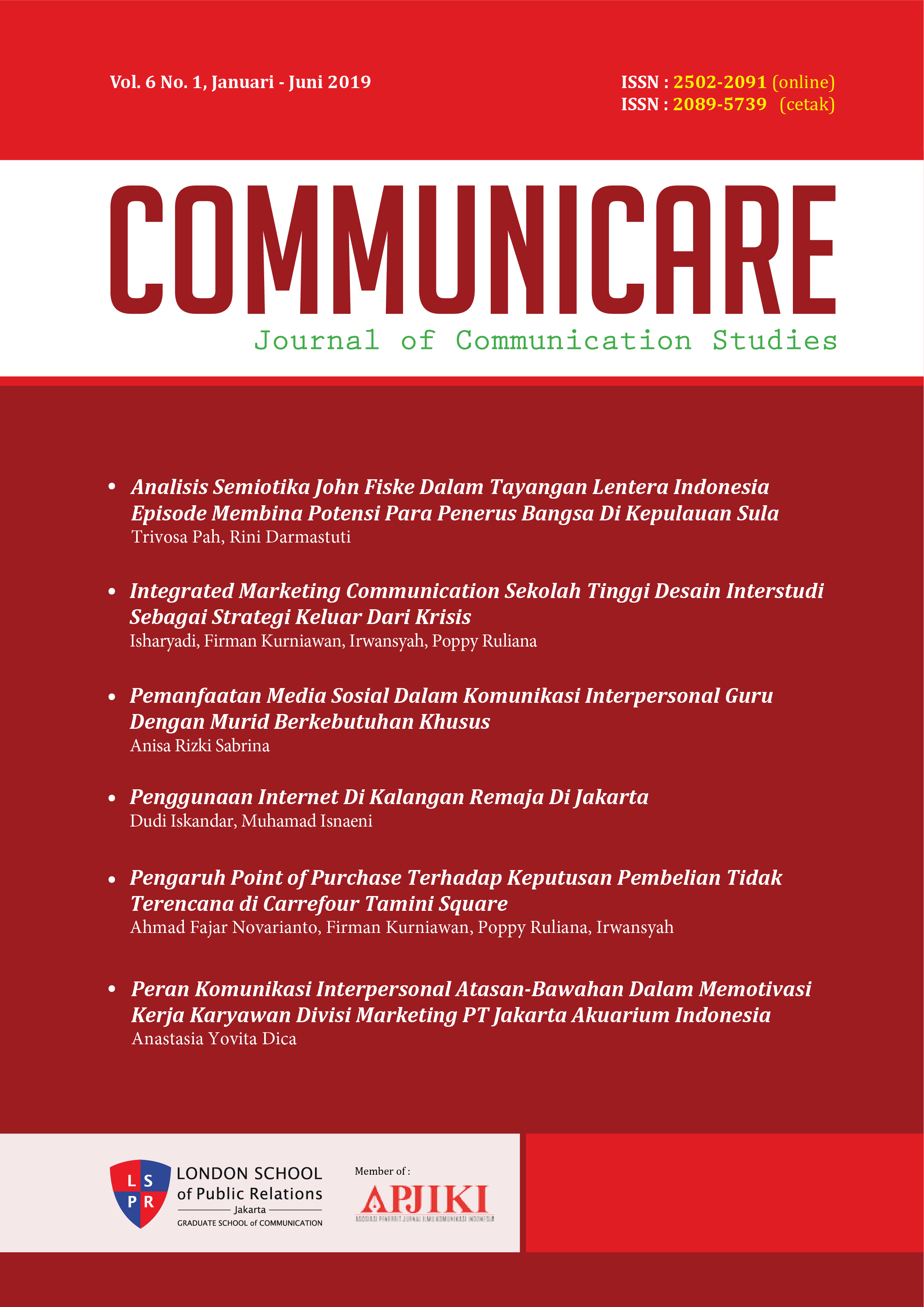 How to Cite
DICA, Anastasia Yovita. PERAN KOMUNIKASI INTERPERSONAL ATASAN-BAWAHAN DALAM MEMOTIVASI KERJA KARYAWAN DIVISI MARKETING PT JAKARTA AKUARIUM INDONESIA.
Communicare : Journal of Communication Studies
, [S.l.], v. 6, n. 1, p. 87 - 97, aug. 2019. ISSN 2502-2091. Available at: <
http://journal.lspr.edu/index.php/communicare/article/view/50
>. Date accessed: 06 june 2020.
This work is licensed under a Creative Commons Attribution 4.0 International License.
Bagi artikel yang dimuat di Jurnal Communicare, berlaku aturan Hak Cipta sebagai berikut:
Jurnal Communicare adalah pemegang hak untuk mempublikasikan artikel untuk pertama kalinya.
Penulis tetap memegang hak cipta atas karya tulis yang terbit di Jurnal Communicare, dan dapat menggunakan karyanya dengan bebas, selama tidak melanggar peraturan.
Karya yang dimuat di Jurnal Communicare berada dibawah lisensi Creative Commons Attribution 4.0 International License