Program Kemitraan Telusur Lebak Pilar dalam Mendukung Pengurangan Sampah Plastik di Kota Bogor
Abstract
ABSTRAK
Kota Bogor tengah mengusahakan pengurangan sampah plastik. Usaha ini diwujudkan dalam program Botak (Bogor Tanpa Kantong Plastik). Kebijakan larangan penggunaan kantong plastik di toko ritel modern dan pusat perbelanjaan itu diatur dalam Peraturan Wali Kota Nomor 61 Tahun 2018. Namun, kesadaran masyarakat Kota Bogor terhadap pengurangan penggunaan kantong plastik dan dampak terhadap lingkungan juga masih rendah. Oleh karena itu program pengabdian masyarakat Telusur Lebak Pilar dilaksanakan dan terdiri dari dua rangkaian acara yakni aksi bersih lingkungan di Lapangan Sempur Bogor dan dilanjutkan dengan seminar atau talkshow lingkungan bertemakan "Kemitraan dalam Integritas Pelestarian Lingkungan Untuk Mendukung SDGs 2030â€. Hasil pengabdian masyarakat ini menghadirkan semangat kemitraan antar sektor yakni pemerintah, institusi pendidikan dan LSM dalam menjaga lingkungan dari limbah plastik dengan memberikan informasi tentang bahaya sampah plastik dan memberikan pemahanan tentang creative thinking untuk mengubah limbah plastik sehingga memiliki nilai tambah.
Kata kunci: aksi; seminar; lingkungan; limbah; plastic; SDGs 2030
ABSTRACT
Bogor City is working to reducing plastic waste. The City has launched program called Botak (Bogor Tanpa Kantong Plastik). The policy to ban plastic bag use in modern retail and traditional market has been regulated in Mayor Regulation Number 61 Tahun 2018. However, awareness of local people to reducing plastic bag use and the impact plastic bag to the environment still poor. Therefore, community service called Telusur Lebak Pilar was held and consisted of two agenda which is cleaning action in Sempur Bogor Field and seminar and talkshow about environment with topic "Partnership in Integrity for Environmental Conservation to Support SDGs 2030â€. The results of community service are to make collaboration partnership between government, educational institutions and NGOs in protecting environment from plastic waste by providing information about the dangers of plastic waste and providing understanding of creative thinking to change plastic waste so that it has added value.
Keyword: action; seminar; environment; waste; plastic; SDGs 2030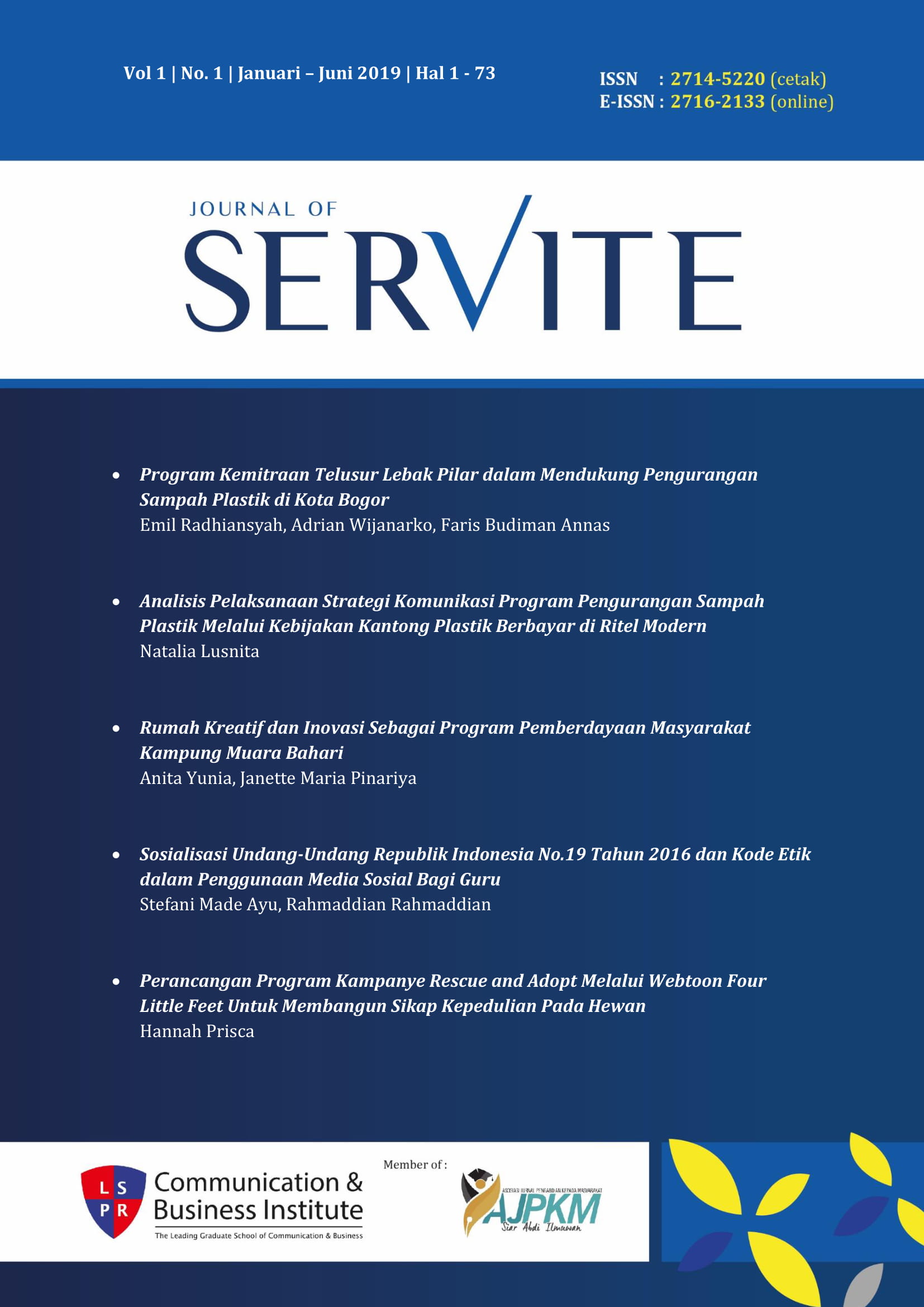 Downloads
How to Cite
Radhiansyah, E., Wijanarko, A., & Annas, F. B. (2019). Program Kemitraan Telusur Lebak Pilar dalam Mendukung Pengurangan Sampah Plastik di Kota Bogor. Journal of Servite, 1(1), 1–11. https://doi.org/10.37535/102001120191
License
Bagi artikel yang dimuat di Jurnal of Servite, berlaku aturan Hak Cipta sebagai berikut:
Jurnal of Servite adalah pemegang hak untuk mempublikasikan artikel untuk pertama kalinya.
Penulis tetap memegang hak cipta atas karya tulis yang terbit di Jurnal of Servite, dan dapat menggunakan karyanya dengan bebas, selama tidak melanggar peraturan.
Karya yang dimuat di Jurnal of Servite berada dibawah lisensi Creative Commons Attribution 4.0 International License. Keterangan lebih lanjut silahkan mengakses bagian Open Access Policy.