Perancangan Program Kampanye Rescue and Adopt Melalui Webtoon Four Little Feet Untuk Membangun Sikap Kepedulian Pada Hewan
Abstract
ABSTRAK
Perancangan Kampanye Rescue and Adopt Melalui Webtoon "Four Little Feet†untuk Let's Adopt Indonesia merupakan bentuk upaya meningkatkan awareness target audience bahwa setiap anjing dan kucing memiliki hak yang sama untuk mendapatkan kesempatan hidup yang layak. Juga meningkatkan awareness mengenai pentingnya partisipasi masyarakat dalam kegiatan rescue dan adopsi. Hal ini dikarenakan komunitas penyelamat hewan sudah memberikan kontribusi dalam menolong hewan-hewan yang terluka, dan terlantar namun jumlahnya masih belum cukup jika dilihat hewan-hewan yang terlantar masih banyak hidup di jalan. Yang menjadi tantangan bagi komunitas ini adalah human resources serta inisiatif masyarakat dalam kegiatan rescue dan adopsi sehingga diharapkan dengan meningkatnya inisiatif, akan mendorong lebih banyaknya hewan tertolong dan pulih, hingga teradopsi.Perancangan materi desain kampanye ini memiliki target audience berusia 16-31tahun yang mulai dan sudah menginjak dewasa dan lebih bertanggungjawab. Materi kampanye yaitu Webtoon, e-poster,dan Line Sticker. Dalam perancangan karya visual kampanye sosial ini, digunakan Sistem Perancangan Kampanye oleh Yongki Safanayong, dimana langkah-langkah pembuatannya meliputi latar belakang fakta, identifikasi masalah, analisis situasi, analisis tantangan dan peluang, strategi kampanye, komponen kampanye/pemilihan media, visualisasi, dan produksi.
 Kata kunci: Kampanye sosial; desain komunikasi visual; media sosial; pencinta hewan
ABSTRACT
Rescue and Adopt Campaign Design Through "Four Little Feet" Webtoon for Let's Adopt Indonesia is a way of raising awareness of the target audience that every dog ​​and cat have the same right to get a decent living opportunity. It also raises awareness about the importance of community participation in rescue and adoption activities. The reason is that animal rescue communities have contributed to helping wounded, abandoned animals but the numbers are still insufficient there are still many abandoned animals living on the streets. The challenge for this community is human resources as well as community initiatives in rescue and adoption activities so hopefully with increased initiative, more animals have the oppotunity to be rescued and recovered, until adopted. The design of this campaign design material has a target audience aged 16-31 years who started and have grown up and be more responsible. Campaign materials are Webtoon, e-poster, and Line Sticker. In designing the visual work of this social campaign. The social campaign design materials were adopted from the System Design Campaign by Yongki Safanayong, which measures manufacturing background, including facts, problem identification, analysis of the situation, analysis of challenges and opportunities, campaign strategy, components of the campaign / media selection, visualization, and production.
Keywords: Social campaign; visual communication design; social media; animal rescue; animal adoption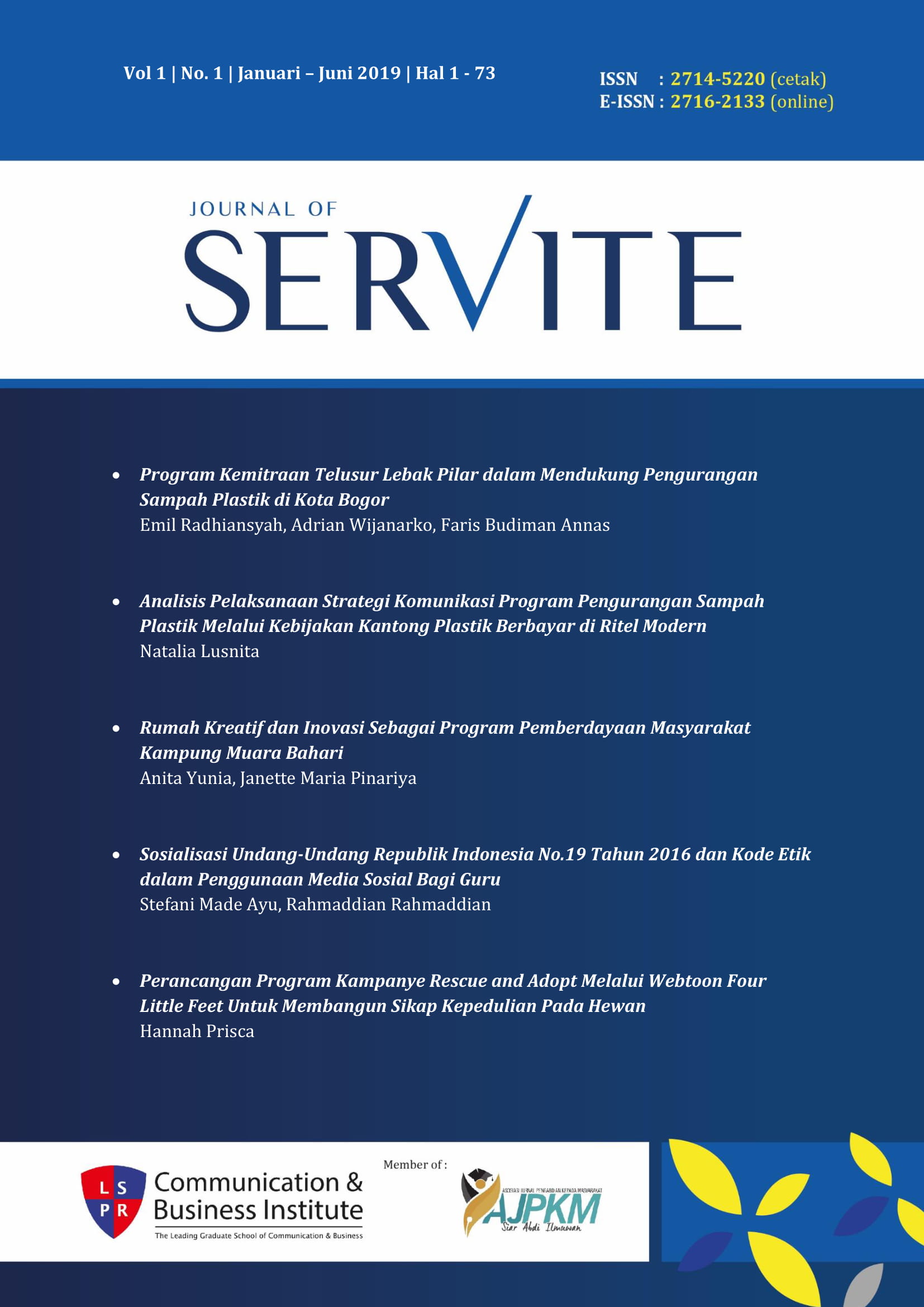 Downloads
How to Cite
Prisca, H. (2019). Perancangan Program Kampanye Rescue and Adopt Melalui Webtoon Four Little Feet Untuk Membangun Sikap Kepedulian Pada Hewan. Journal of Servite, 1(1), 50–73. https://doi.org/10.37535/102001120195
License
Bagi artikel yang dimuat di Jurnal of Servite, berlaku aturan Hak Cipta sebagai berikut:
Jurnal of Servite adalah pemegang hak untuk mempublikasikan artikel untuk pertama kalinya.
Penulis tetap memegang hak cipta atas karya tulis yang terbit di Jurnal of Servite, dan dapat menggunakan karyanya dengan bebas, selama tidak melanggar peraturan.
Karya yang dimuat di Jurnal of Servite berada dibawah lisensi Creative Commons Attribution 4.0 International License. Keterangan lebih lanjut silahkan mengakses bagian Open Access Policy.