Potensi Urban Toys Sebagai Reproduksi Komunikasi Budaya
Rani Chandra Oktaviani

Institut Komunikasi dan Bisnis LSPR

Yuliana Riana Prasetyawati

Institut Komunikasi dan Bisnis LSPR
Keywords:
urban toys, komunikasi budaya, reproduksi budaya
Abstract
Perkembangan globalisasi membuat penetrasi budaya populer semakin meningkat, secara simultan budaya lokal perlahan semakin tenggelam. Salah satu produk budaya populer yang juga berkembang di Indonesia adalah Urban Toys, pada awal masuk ke Indonesia sempat membuat sebagian masyarakat sangat menikmati karya urban toys dari luar negeri. Namun sejalan dengan perkembangannya, munculah artis lokal yang mulai membuat karya urban toys dengan membawa konsep budaya lokal. Berdasarkan kajian riset sebelumnya, karya urban toys dinilai dapat menjadi produk budaya yang merupakan hasil reproduksi artis dalam hal ini mewakili masyarakat Indonesia. Artis Indonesia mencoba mengkomunikasikan kembali budaya lokal melalui konsep dan gagasan karyanya. Melihat masalah dan fenomena tersebut, maka tertarik dilakukan penelitian ini yang bertujuan untuk menganalisis potensi urban toys sebagai proses reproduksi komunikasi budaya. Teori yang digunakan dalam penelitian ini adalah teori komunikasi budaya, dan konsep reproduksi budaya. Penelitian ini menggunakan pendekatan paradigma konstruktivis dengan metode kualitatif. Pengumpulan data dilakukan dengan wawancara mendalam dan FGD, serta dilakukan teknik kehandalan data melalui konfirmasi sumber, dimana objek pengamatan bukan hanya dari artis lokal pembuat urban toys saja, namun juga melibatkan pandangan masyarakat, akademisi dan Badan Ekonomi Kreatif. Hasil penelitian menemukan bahwa urban toys berpotensi menjadi artefak baru yang merupakan hasil dari proses reproduksi komunikasi budaya Indonesia, kemudian juga urban toys dapat menjadi media komunikasi budaya yang memiliki peran dalam kohesifitas antar generasi. Implikasi yang bisa ditarik dari penelitian ini menunjukan bahwa komunikasi budaya dapat berubah khususnya pada era cyberculture. Karya urban toys lokal dinilai dapat menjadi suatu bentuk praktik reproduksi budaya Indonesia, yang telah beradaptasi dengan budaya luar melalui pembelajaran dari penggiat urban toys.
The development of globalization makes the penetration of popular culture increasingly widespread, simultaneously the local culture is slowly sinking. One of the popular culture products that is also developing in Indonesia is Urban Toys, people start to like and buy urban toys products that come from abroad. However, at this time there are local artists who are starting to make urban toys by bringing the concept of local culture. Seeing these problems and phenomena, this research is interested to be conducted which aims to analyze the potential of urban toys as a process of reproduction of cultural communication. The theory used in this research is the theory of cultural communication, and cultural reproduction with a qualitative approach. Data collection was done by in-depth interviews and FGDs, as well as data reliability techniques through source confirmation, where the object of observation was not only from local artists making urban toys, but also involved the views of the community, academics and the Creative Economy Agency. The results found that urban toys have the potential to be a new artifact of the reproduction process of Indonesian cultural communication, and one of the roles can be a medium of cultural communication that has a role in intergenerational cohesiveness. It can be concluded from the results of this study that the work of local urban toys is considered to be able to illustrate the practice of adaptation of local culture, but on the other hand it is still at the touch level of cultural concepts, and has not been fully used as resistance to popular culture. While the implication is cultural reproduction through urban toys, it is still in the process of perpetuating the distribution of popular culture.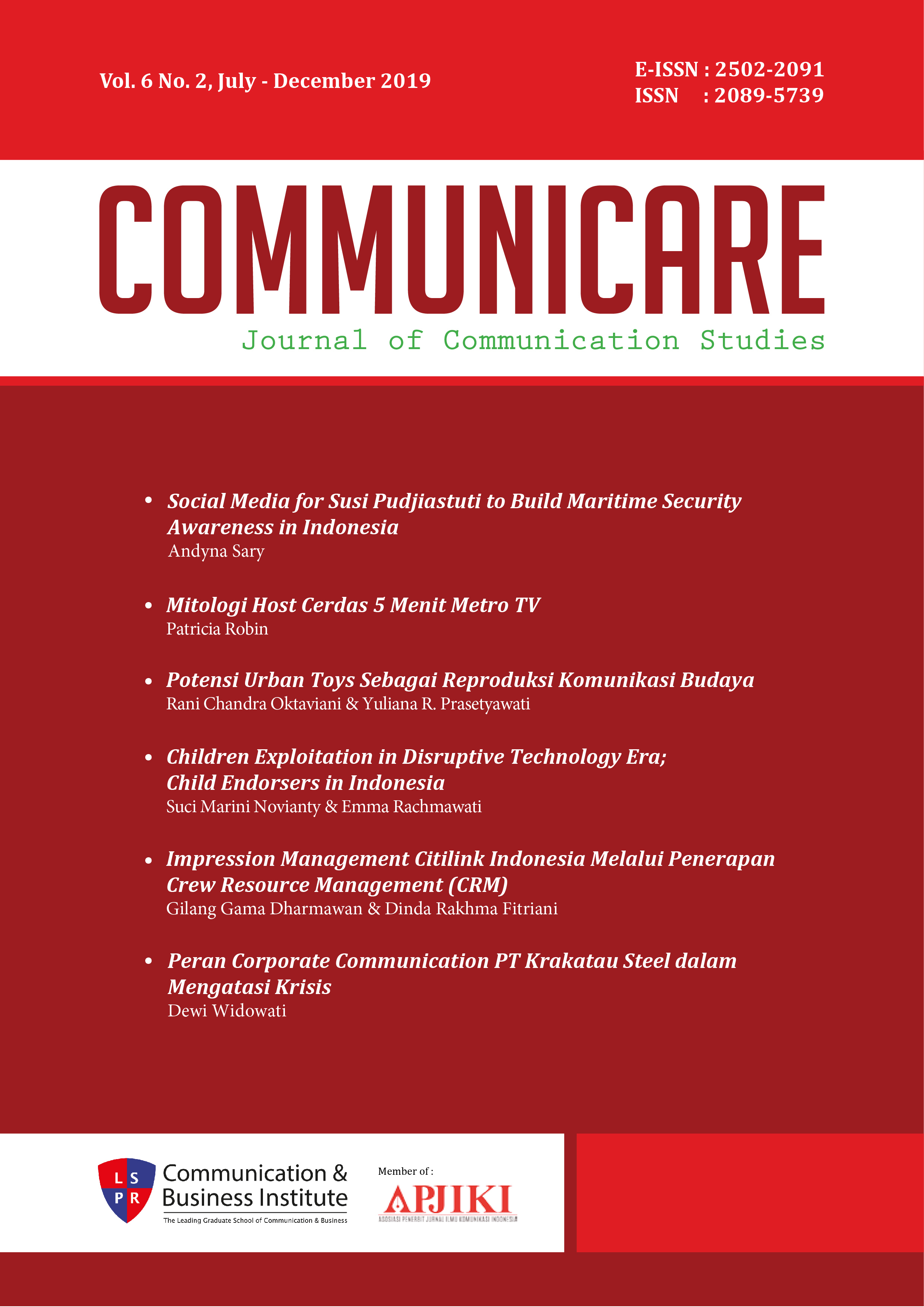 This work is licensed under a Creative Commons Attribution 4.0 International License.
Bagi artikel yang dimuat di Jurnal Communicare, berlaku aturan Hak Cipta sebagai berikut:
Jurnal Communicare adalah pemegang hak untuk mempublikasikan artikel untuk pertama kalinya.
Penulis tetap memegang hak cipta atas karya tulis yang terbit di Jurnal Communicare, dan dapat menggunakan karyanya dengan bebas, selama tidak melanggar peraturan.
Karya yang dimuat di Jurnal Communicare berada dibawah lisensi Creative Commons Attribution 4.0 International License