REPRESENTASI PRODUCT PLACEMENT DALAM FILM INDONESIA SEBAGAI MEDIA PROMOSI: STUDI KASUS TERHADAP PRODUK GERY CHOCOLATOS DALAM FILM "HABIBIE & AINUN"
Abstract
The growing number of movie industries in Indonesia has urged the needs of a high budgetry; hence it requires a product placement placed in several scenes in the film. Apparently, the representation of the product placement was condemned by many, from the critics, media as well as audience, due to its blurring boundaries between the story content and promotional content. One example of Indonesian movies using product placement, which received negative criticisms is "Habibie & Ainun," an award-winning movie for its storyline and acting qualities played by the actors. Yet, the movie received negative feedbacks because of the product placement. One of the product placements is from Gery Chocolatos, a wafer product from the GarudaFood. The theory used in this research is the Representation Theory from Stuart Hall, using qualitative interpretive method and data reduction from Miles & Huberman. Techniques used to collect all the data are document study, film study –to found the representation of Gery Chocolatos product placement featured in the movies, and in-depth interviews with the message producer, message distributor and the message consumption actors: six interviewees from age 17-23, 24-30 and above 30 years old. The research reveals that only several informants saw the representations of product placement, because most informants focused on the movie.
Keywords: Representation Theory, product placement, Indonesian movies, promotion.
Industri film Indonesia yang berkembang memerlukan pembiayaan yang tidak sedikit. Salah satu model pembiayaan film adalah menggunakan product placement. Representasi product placement dalam film Indonesia seringkali dianggap "gambling," bahkan mengaburkan batas antara konten film dengan bentuk promosi tersebut. Salah satunya ada pada film "Habibie & Ainun," yang menuai kritikan, baik dari segi cerita maupun acting. Film inipun mendapat kritikan negatif mengenai product placement yang dimasukkan. Salah satu produk yang berada dalam film ini adalah produk wafer stik Gery Chocolatos dari GarudaFood. Penelitian ini menggunakan Teori Representasi dari Stuart Hall dengan metode kualitatif interpretif. Sementara, metode analisis yang digunakan adalah Reduksi Data dari Miles & Huberman. Teknik pengumpulan data dilakukan dengan studi dokumen, studi film untuk menemukan representasi adegan yang mengandung product placement Gery Chocolatos dan in-depth interview terhadap penulis skenario sebagai pelaku produksi pesan, sutradara sebagai pelaku distribusi pesan dan enam narasumber dari klasifikasi usia 17-23, 24-30 dan di atas 30 tahun sebagai pelaku konsumsi pesan. Dari hasil penelitian, ditemukan bahwa representasi product placement Gery Chocolatos dalam film "Habibie & Ainun" –dari sudut pandang para narasumber tidak terlalu berhasil dalam menyampaikan pesannya karena konsumsi penonton terfokus pada filmnya, dan hanya disadari sebagian narasumber.
Kata Kunci: Teori Representasi Stuart Hall, product placement, film Indonesia, promosi.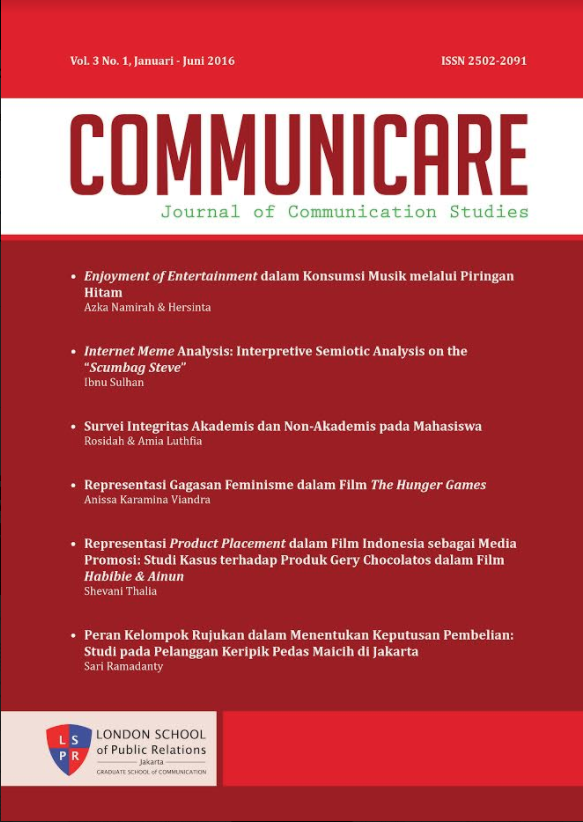 How to Cite
THALIA, Shevani. REPRESENTASI PRODUCT PLACEMENT DALAM FILM INDONESIA SEBAGAI MEDIA PROMOSI: STUDI KASUS TERHADAP PRODUK GERY CHOCOLATOS DALAM FILM "HABIBIE & AINUN".
Communicare : Journal of Communication Studies
, [S.l.], v. 3, n. 1, p. 81-106, nov. 2017. ISSN 2502-2091. Available at: <
http://journal.lspr.edu/index.php/communicare/article/view/11
>. Date accessed: 02 july 2020.
Bagi artikel yang dimuat di Jurnal Communicare, berlaku aturan Hak Cipta sebagai berikut:
Jurnal Communicare adalah pemegang hak untuk mempublikasikan artikel untuk pertama kalinya.
Penulis tetap memegang hak cipta atas karya tulis yang terbit di Jurnal Communicare, dan dapat menggunakan karyanya dengan bebas, selama tidak melanggar peraturan.
Karya yang dimuat di Jurnal Communicare berada dibawah lisensi Creative Commons Attribution 4.0 International License