PERAN KELOMPOK RUJUKAN DALAM MENENTUKAN KEPUTUSAN PEMBELIAN
(Studi Pada Pelanggan Keripik Pedas Maicih di Jakarta)
Keywords:
kelompok rujukan, sumber pesan, mobile viral marketing, keputusan pembelian konsumen
Abstract
The final decision of consumers in purchasing of certain product are affected by several external factors, includes reference groups such as family, friends, co-workers or others. This study aims to investigate and identify the relationship between the reference group on consumer purchasing decisions with message source and mobile viral marketing as control variables in spicy chips "Maicih" consumer. This study uses a quantitative approach with survey method. There are 200 respondents who represent the spicy chips "Maicih". The sampling technique is a non-probability random sampling with elaboration techniques data analysis. The results of this study proving that there is a relationship that formed buying decision through referral group. Not all dimensions of the control variables have a relationship as a reinforcement of the formation of consumer purchasing decision through a reference group. The dimension is of the non-marketing through mass media and the non-marketing through private and dimension to receipt Behavior and Behavior to Usage.
Keywords: Referral group , message source , mobile viral marketing , consumer purchasing decisions
Konsumen dalam menetukan keputusan akhir pembelian produk tertentu dipengaruhi oleh beberapa faktor ekternal antara lain kelompok referensi seperti keluarga, teman, rekan kerja ataupun orang lain.Penelitian ini bertujuan untuk mengetahui dan melakukan identifikasi terhadap hubungan kelompok rujukan terhadap keputusan pembelian konsumen produk keripik pedas "Maicih "dengan sumber pesan dan mobile viral marketing sebagai variabel kontrol. Penelitian ini menggunakan pendekatan kuantitatif dengan metode survey melibatkan 200 responden yang merupakan konsumen keripik pedas "Maicih". Teknik pengambilan sampel menggunakan non-probability random sampling dengan teknik analisis data elaborasi. Hasil dari penelitian ini membuktikan bahwa terdapat hubungan yang membentuk keputusan pembelian melalui kelompok rujukan. Tidak semua dimensi pada variabel kontrol memiliki hubungan sebagai penguat dari pembentukan keputusan pembelian konsumen melalui kelompok rujukan. Dimensi tersebut adalah dimensi non- pemasaran melalui media massa dan non-pemasaran melalui pribadi serta dimensi behavior to receipt dan behavior to usage.
Kata kunci: Kelompok rujukan, sumber pesan, mobile viral marketing, keputusan pembelian konsumen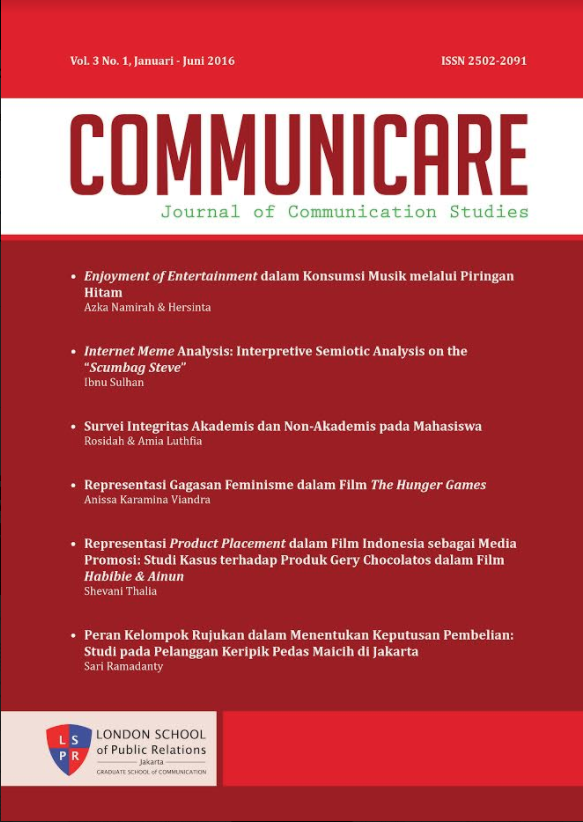 How to Cite
Ramadanty, S. (2017, November 10). PERAN KELOMPOK RUJUKAN DALAM MENENTUKAN KEPUTUSAN PEMBELIAN. Communicare : Journal of Communication Studies, 3(1). Retrieved from http://journal.lspr.edu/index.php/communicare/article/view/12
Bagi artikel yang dimuat di Jurnal Communicare, berlaku aturan Hak Cipta sebagai berikut:
Jurnal Communicare adalah pemegang hak untuk mempublikasikan artikel untuk pertama kalinya.
Penulis tetap memegang hak cipta atas karya tulis yang terbit di Jurnal Communicare, dan dapat menggunakan karyanya dengan bebas, selama tidak melanggar peraturan.
Karya yang dimuat di Jurnal Communicare berada dibawah lisensi Creative Commons Attribution 4.0 International License