Consumers' Perception on Multiple Product Endorsements by Celebrity in Instagram Study Case
Abstract
Internet had made important changes in economic and social life. It provides interaction and a lot of information that create connection for marketers to reach out and touch their customers especially through Social Media. For present, Instagram is the most popular social media sites in Indonesia. Instagram provide an opportunity for one of the marketing strategies by using celebrity endorser to share their visual contents. Unique post and related content can engage consumers in a personal way and affect people on an emotional level. Celebrity Endorsement according to McCracken (1989) is a transfer process of value perception of the endorser to the product and then from product to consumer. The promotion in Instagram happens in simple manner when the celebrities share post in their Instagram feed. Previous study by Tripp (1994) found that multiple product endorsements by celebrities negatively influence consumer perceptions of the endorser and the product. However, in present day, many endorsement activities come from one celebrity endorser with different kind of products posted every day. Multiple product endorsements is imminent and unavoidable otherwise company may need to compensate the celebrity with a huge amount of endorser fee to make one celebrity exclusive only for their product, yet the impact for exclusive endorser has not been proven. This study focuses on Multiple Product Endorsements by Celebrities that happen in Instagram, researcher choose Nikita Willy, Joanna Alexandra and Karin Novilda as the celebrity endorsers. Qualitative approach has been used to explore and generate understanding on consumers' perspective toward multiple product endorsements by celebrity. Literature review revealed there were lack of study on multiple product endorsements in Instagram. Hence, interviews were done among 10 respondents of active Instagram user during May 2018 to June 2018. It was found most of respondents favor multiple product endorsements as long as the products endorsed match with the endorser image, the type of contents shared by the endorser has impact on the product endorsed and multiple product endorsements by celebrities can benefit other products promote by the endorser. In general, it can be concluded that multiple product endorsements in Instagram is acceptable and may become part of the marketing communication strategy.
Keywords: multiple product endorsement, celebrity endorsement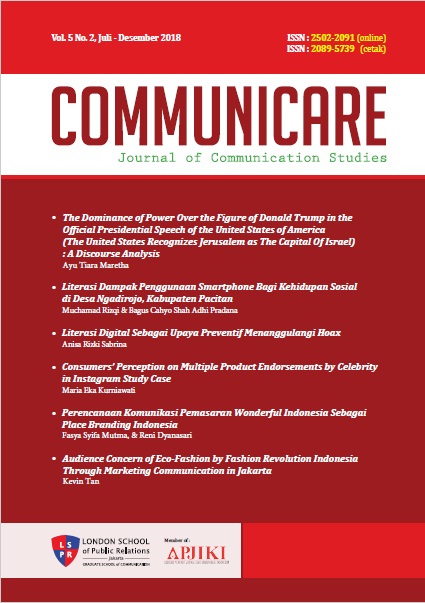 How to Cite
KURNIAWATI, Maria Eka. Consumers' Perception on Multiple Product Endorsements by Celebrity in Instagram Study Case.
Communicare : Journal of Communication Studies
, [S.l.], v. 5, n. 2, p. 47 - 60, jan. 2019. ISSN 2502-2091. Available at: <
http://journal.lspr.edu/index.php/communicare/article/view/37
>. Date accessed: 24 july 2019.