Audience Concern of Eco-Fashion by Fashion Revolution Indonesia Through Marketing Communication in Jakarta
Abstract
After Rana Plaza tragedy, Fashion Revolution has came to Indonesia on 2016, deliver the objective is to unite people work together to change the perspective about the clothes are sourced, produced and consumed. However, based on Fashion Revolution Indonesia statement, it is challenging to evoke consumer's concern about eco-fashion.
The concern problem of sustainable fashion remains until now. Simply, the consumers don't care, trying to deny, blaming others and refuse to take responsibility. Fashion Revolution Indonesia needs to figure out another way to communicate with audience who originally doesn't concern about eco-fashion in the first place. The goal of this research is to analyze Fashion Revolution Indonesia marketing communication implementation towards audience concern about eco-fashion.
Using qualitative approach, which the researcher gathers the data. Social marketing is more difficult rather than commercial marketing, which prestige, exclusivity, design options, quality, and pricing are some of the commercial marketing elements cater what consumer likes. In the other hand, social marketing is focused on making attitude change for social cause and give up the addictive behavior.
By conclusion, Fashion Revolution Indonesia must understand how the ecosystem works to do the marketing communication in social context from internal and external, because social change is a complex issue. From the way they communicate, the message, media to promote, the organization, campaigners and partners themselves, every single one of the elements are important to lead an impact of attitude change to the audience.
Keywords: Eco-Fashion, Fast Fashion, Concern, Marketing Communication, Fashion Revolution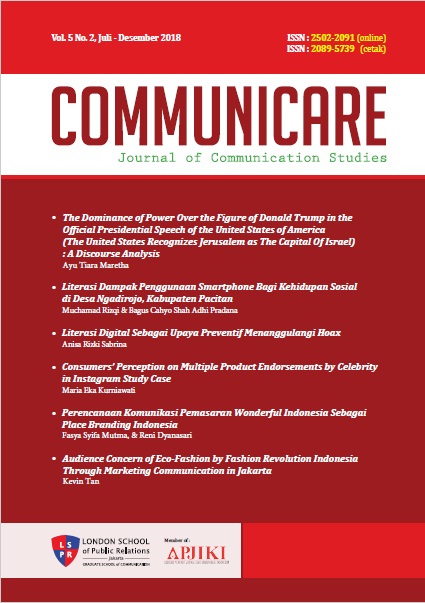 How to Cite
TAN, Kevin. Audience Concern of Eco-Fashion by Fashion Revolution Indonesia Through Marketing Communication in Jakarta.
Communicare : Journal of Communication Studies
, [S.l.], v. 5, n. 2, p. 81 - 94, jan. 2019. ISSN 2502-2091. Available at: <
http://journal.lspr.edu/index.php/communicare/article/view/39
>. Date accessed: 24 july 2019.