Celebrity Endorsement in Social Media to Enhance Brand Image & Brand Loyalty
Tyara Citra

Magda Harahap
Abstract
Today, many companies used social media as their marketing tools, small businesses even use social media as their core platform to market their products or services, as for big companies are using it to create their brand image and directly engage with their audience. Celebrity is also perceived to be more credible and trustworthy to be representing a brand that is specifically matched with the celebrity's image. The first purpose of this paper is to therefore understand the strategy and implementation of using a celebrity endorser through social media activities to enhance brand image and brand loyalty of a fast-moving consumer goods brand. Additionally, this paper is using a comparative approach by comparing in total of ten similar studies conducted to gain insights about celebrity endorsement, social media, brand image and brand loyalty. The paper concludes by discussing the implications of the study based on previous studies and pre-research conducted that can be applied by industrial practitioners to help them achieve their marketing objectives.
Keywords: Social media, celebrity endorsement, brand image, brand loyalty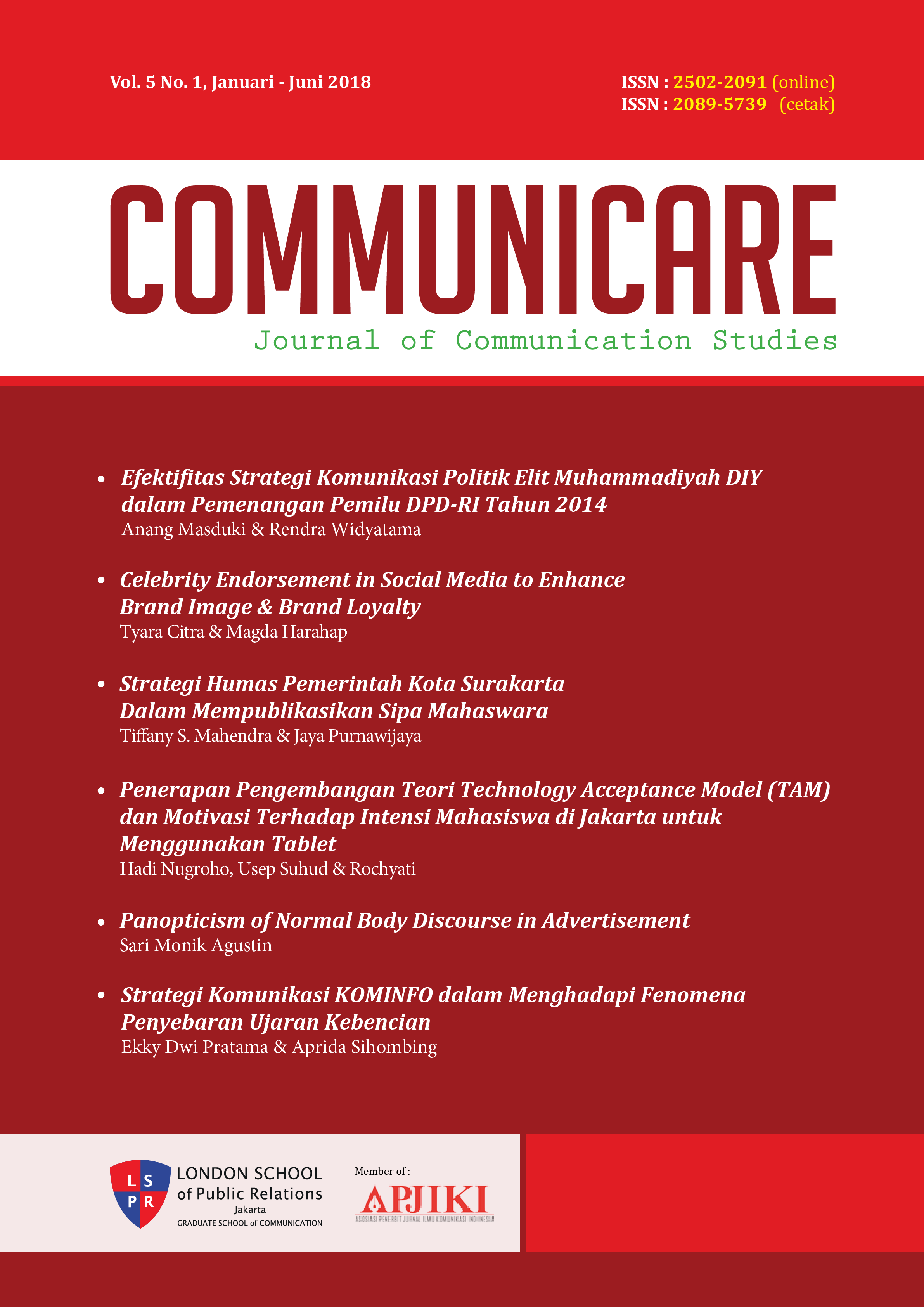 How to Cite
CITRA, Tyara; HARAHAP, Magda. Celebrity Endorsement in Social Media to Enhance Brand Image & Brand Loyalty.
Communicare : Journal of Communication Studies
, [S.l.], v. 5, n. 1, p. 19 - 32, jan. 2019. ISSN 2502-2091. Available at: <
http://journal.lspr.edu/index.php/communicare/article/view/41
>. Date accessed: 02 july 2020.
Bagi artikel yang dimuat di Jurnal Communicare, berlaku aturan Hak Cipta sebagai berikut:
Jurnal Communicare adalah pemegang hak untuk mempublikasikan artikel untuk pertama kalinya.
Penulis tetap memegang hak cipta atas karya tulis yang terbit di Jurnal Communicare, dan dapat menggunakan karyanya dengan bebas, selama tidak melanggar peraturan.
Karya yang dimuat di Jurnal Communicare berada dibawah lisensi Creative Commons Attribution 4.0 International License