Children Exploitation in Disruptive Technology Era
Child Endorsers in Indonesia
Suci Marini Novianty

Mrs.

Emma Rachmawati

Universitas Pembangunan Jaya
Keywords:
media studies, children exploitation, content creator, disruption of technology
Abstract
It is impossible to ignore the fact that social media as powerful marketing too in this disruptive era. The user, transform and claim themselves as a content creator, such as endorser and social media influencer. Meanwhile, children are also included in this social media endorser phenomenon. Children are juvenile and not capable of making decisions for themselves. This study aims to map how child exploitation in social media platforms, such as Instagram and YouTube, are conducted. Using the case study method, we observe various child influencer accounts. Based on the research, we found that there are several parties related to child exploitation in social media. Social-media platforms, advertisers, state agencies, followers or subscribers, parents, and children are the parties related to the case. Social-media platforms, verifying the underage accounts. Advertisers are those who choose the children endorser; State agencies as the lawmaker who let this kind of case slip without any further action; Follower or Subscriber who support the contents; Parents who play their power role to use their children; and children as the labor. These findings lead to conclude; children are regarded as workers who generate profit from investments made by their parents.
Di era disrupsi teknologi saat ini, sulit untuk mengabaikan fakta bahwa media sosial adalah alat pemasaran yang berpengaruh. Pengguna, mentransformasikan dan mengklaim diri mereka sebagai pembuat konten, seperti endorser dan influencer media sosial. Sementara anak-anak juga termasuk dalam fenomena pendukung media sosial ini. Penelitian ini menemukan bahwa anak-anak sebagai endorser sebenarnya adalah bentuk eksploitasi anak terbaru. Anak-anak tidak mampu membuat keputusan untuk diri mereka sendiri. Penelitian ini bertujuan untuk memetakan bagaimana eksploitasi anak-anak di platform media sosial, seperti Instagram dan Youtube, dilakukan. Menggunakan metode studi kasus, kami mengamati berbagai akun influencer anak. Kami menemukan bahwa beberapa pihak terkait dengan eksploitasi anak di media sosial. Platform sosial-media, pengiklan, pemerintah, pengikut atau pelanggan, orang tua dan anak-anak adalah pihak yang terkait dengan kasus ini. Platform sosial-media, karena memverifikasi akun di bawah umur. Pengiklan, adalah mereka yang memilih penggunaan anak-anak; Pemerintah sebagai pembuat hukum yang membiarkan kasus seperti ini bergulir tanpa regulasi; Pengikut atau Pelanggan yang mendukung konten; Orang tua yang memainkan peran kekuatan mereka untuk menggunakan anak-anak mereka; dan Anak-anak sebagai pekerja. Temuan ini mengarah pada kesimpulan, anak-anak dianggap sebagai pekerja yang menghasilkan laba dari investasi yang dilakukan oleh orang tua mereka.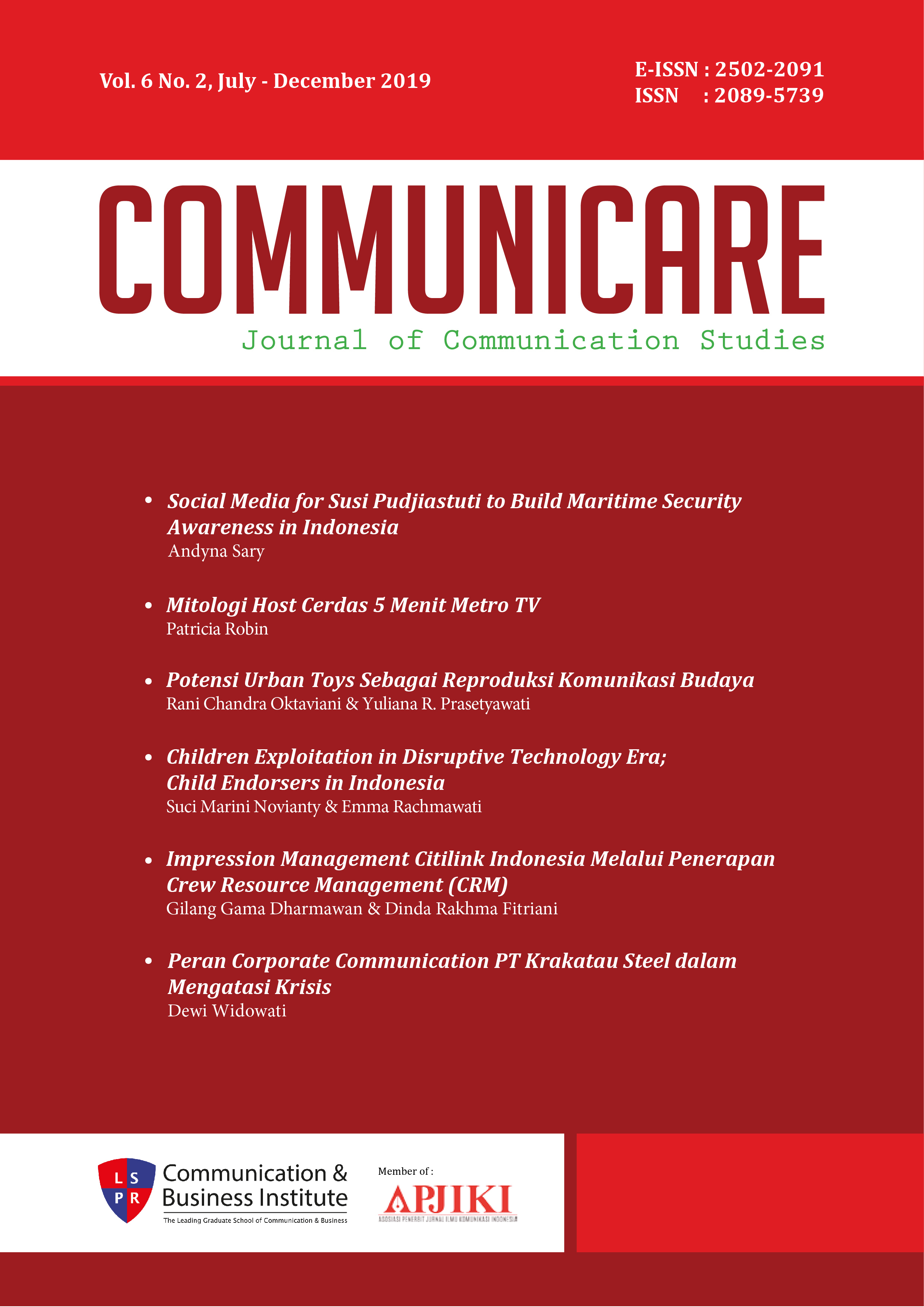 This work is licensed under a Creative Commons Attribution 4.0 International License.
Bagi artikel yang dimuat di Jurnal Communicare, berlaku aturan Hak Cipta sebagai berikut:
Jurnal Communicare adalah pemegang hak untuk mempublikasikan artikel untuk pertama kalinya.
Penulis tetap memegang hak cipta atas karya tulis yang terbit di Jurnal Communicare, dan dapat menggunakan karyanya dengan bebas, selama tidak melanggar peraturan.
Karya yang dimuat di Jurnal Communicare berada dibawah lisensi Creative Commons Attribution 4.0 International License