Impression Management Citilink Indonesia Melalui Penerapan Crew Resource Management (CRM)
Gilang Gama Dharmawan

Universitas Gunadarma

Dinda Rakhma Fitriani

Universitas Gunadarma
Keywords:
impression management, crew resources management, citilink indonesia
Abstract
As one of the low-cost airlines in Indonesia, Citilink Indonesia comes with unique packaging on each flight through the concept of young, fun and dynamic, especially represented by their cabin crew. This research is intended to analyze the application of Crew Resources Management by Citilink Indonesia in relation to impression management conducted by Citilink Indonesia's cabin crew. In this research, researchers used impression management concept analysis on crew resources management in organizational communication by using qualitative study methods through a case study approach and using interpretive paradigms in looking at the problems in this research. Based on the results of the research that has been obtained, the researcher found that the cabin crew of Citilink Indonesia carried out impression management by making Crew Resources Management a guideline, which is seen through their way of representing themselves by following the policies and rules set by the company that covers various aspects such as Performance, Communication Skill, Knowledge, Poise and grace (attitude), problem solving, team work and decision making in order to provide satisfaction of safety, security and service to passengers. So the researchers conclude that the application of Crew Resources Management is an impression management step made by Citilink Indonesia to its cabin crew to be able to represent the company well through a row stages of preparation to minimize the undesirable things caused by human error.
Sebagai salah satu maskapai berbiaya hemat (low cost carrier) di Indonesia, Citilink Indonesia hadir dengan kemasan unik disetiap penerbangannya melalui konsep young, fun and dynamic yang khususnya direpresentasikan para awak kabin mereka. Penelitian ini dimaksudkan untuk menganalisis penerapan crew resources management oleh Citilink Indonesia dalam kaitannya dengan impression managementyang dilakukan oleh awak kabin Citilink Indonesia. Pada penelitian ini, peneliti menggunakan analisis konsep impression management pada crew resources management dalam komunikasi organisasidenganmenggunakan metode penelitian kualitatif melalui pendekatan studi kasus dan menggunakan paradigma interpretif dalam memandang permasalahan dalam penelitian ini. Berdasarkan hasil dari penelitian yang telah didapatkan, peneliti menemukan bahwaawak kabin Citilink Indonesia melakukan impression management atau pengelolaan kesan dengan menjadikan crew resources managementsebagai sebuah pedoman, yangdimana hal ini terlihatmelalui cara mereka dalam merepresentasikan diri dengan mengikuti kebijakan serta aturan yang telah ditetapkan oleh perusahaan yang  meliputi berbagai aspek seperti performance, communication skill, knowledge, poise and grace(attitude), problem solving, team work dan decision making atau pengambilan keputusanagar dapat memberikan kepuasan terhadap safety, security dan servicekepada penumpang. Sehingga peneliti menyimpulkan bahwa penerapan Crew Resources Managementmerupakan sebuah langkah pembentukan kesan yang dilakukan Citilink Indonesia terhadap awak kabinnya untuk dapat merepresentasikan perusahaan dengan baik melalui serangkaian tahap persiapan secara matang guna meminimalisir hal-hal yang tidak diinginkan yang diakibatkan oleh human error.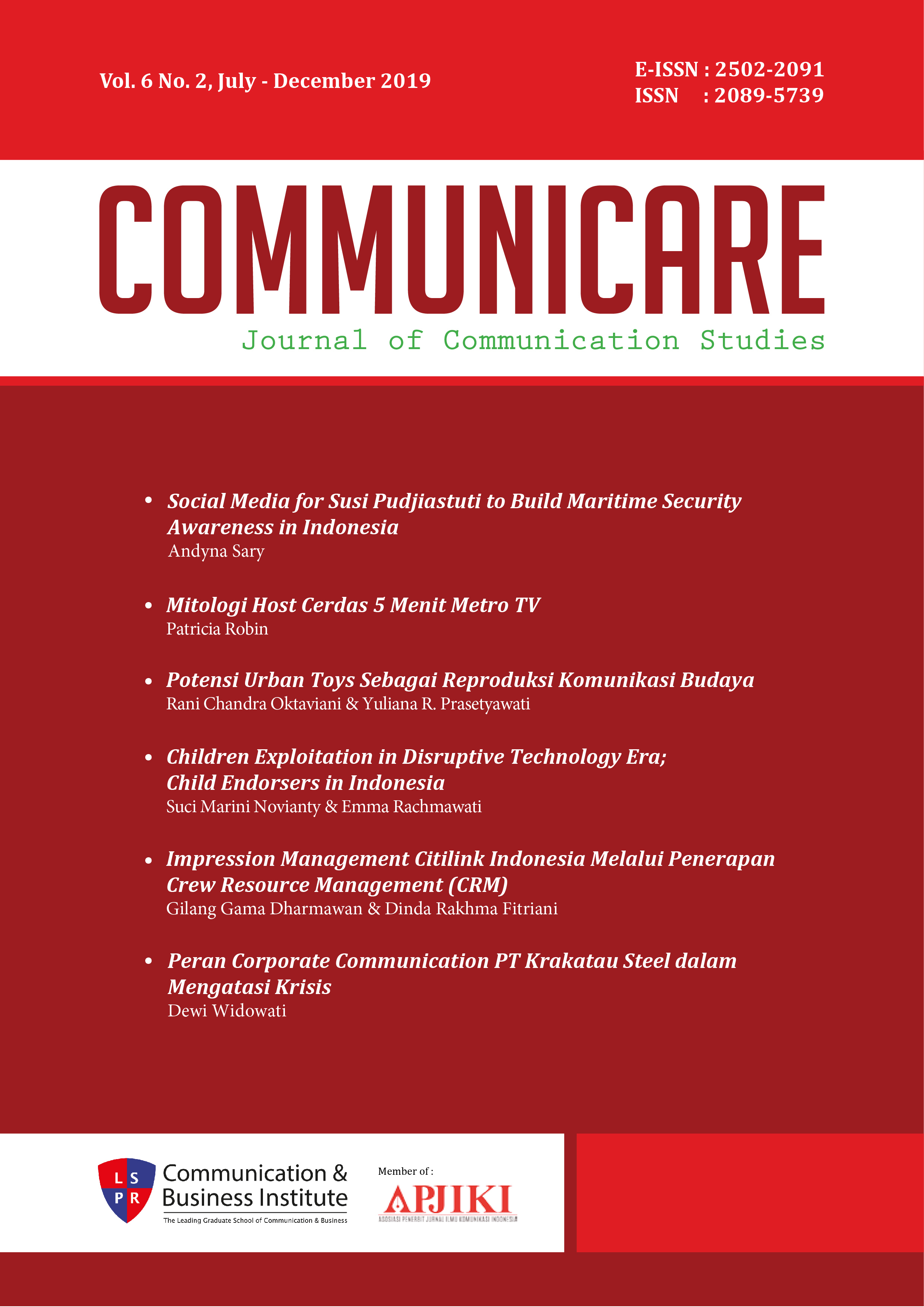 This work is licensed under a Creative Commons Attribution 4.0 International License.
Bagi artikel yang dimuat di Jurnal Communicare, berlaku aturan Hak Cipta sebagai berikut:
Jurnal Communicare adalah pemegang hak untuk mempublikasikan artikel untuk pertama kalinya.
Penulis tetap memegang hak cipta atas karya tulis yang terbit di Jurnal Communicare, dan dapat menggunakan karyanya dengan bebas, selama tidak melanggar peraturan.
Karya yang dimuat di Jurnal Communicare berada dibawah lisensi Creative Commons Attribution 4.0 International License