The Public Relations Acceptance Towards Press Release Application with Artificial Intelligence
Keywords:
Public Relations, Press Release, Artificial intelligence, Machine learning, Automation
Abstract
Artificial Intelligence (AI) is gradually changing every industry, including the Public Relations industry (Afzal, 2018). Skills associated with conducting research, creating content, evaluating campaigns, tracking issues and countless work processes are being automated with AI. We believe, although never fully replace public relations professionals but will increasingly assist us and possibly do a better job. We are developing PR Bot, a tool that help PR to create an instant press release using an AI (machine learning). Before we continue building the app, we need to know whether the PR practitioners will accept this technology or not. To find the results we conduct a descriptive research, using interview and polling survey, convenient sampling among the PR professional in Greater Jakarta area. We use Technology Acceptance Model to develop the questionnaire. According to the interview, we found that the knowledge and skill of using new technology of the respondents is very good. The survey shows the acceptance of the perceived ease of use and perceived usefulness of the PR Bot is high. The conclusion, the target market is ready to use the technology, they feel that this tech will help them in daily basis task. Based on this result, we will continue developing and using the insight from the respondents to build the feature of this application.
References
Afzal, Safaque Kagdi. (2018). How PR is Intersecting with AI, AI will help PR companies to process this data to identify the behavioral patterns of consumers https://www.entrepreneur.com/article/320645

Al Aufa, Badra, Renindra, Intan Syaffira, Putri, Julianti Siannita, Nurmansyah, Mochamad Iqbal. (2020). An application of the Unified Theory of Acceptance and Use of Technology (UTAUT) model for understanding patient perceptions on using hospital mobile application. Enfermeria Clinica Volume 30, Supplement 6, October 2020, Pages 110-113. https://www.sciencedirect.com/science/article/abs/pii/S113086212030365X

Ansari, Fazel, Erol Salim, Sihn, Wilfied. (2018). Rethinking Human-Machine Learning in Industry 4.0: How Does the Paradigm Shift Treat the Role of Human Learning? 8th Conference on Learning Factories 2018-Advanced Engineering Education & Training for Manufacturing Innovation. Procedia manufacturing 23 117-122.

Arief, N. N., & Saputra, M. A. A. (2019). Kompetensi Baru Public Relations (PR) Pada Era Artificial Intelligence. Jurnal Sistem Cerdas, 02(01), 1–12.

Bertrand, M., Bouchard, S..(2008). Applying the Technology Acceptance Model to VR with people who are favorable to its use. Journal of Cybertherapy and Rehabilitation, 1(2), 200–207.

Dunan, Amri, Mudjiyanto, Bambang. (2020). The Republic of Indonesia Government Public Relations Communication Strategy in The Era of The Industrial Revolution 4.0. JATI-Journal of Southeast Asian Studies, Volume 25(1), June 2020, 58-78. ISSN 1823-4127/e-ISSN 2600-8653

Fuchs, C. (2018). Industry 4.0: The digital German ideology. TripleC, 16(1), 280–289.

Galloway, Chris, Lukasz Swiatek. (2018). Public relations and artificial intelligence: it's not (just) about robots. Public Relations Review 44 (2018) 734-740. www.elsevier.com/locate/pubrev

Gershgorn, Dave. (2017). Don't Fear The AI, The Quartz guide to artificial intelligence: What is it, why is it important, and should we be afraid?. https://qz.com/1046350/the-quartz-guide-to-artificial-intelligence-what-is-it-why-is-it-important-and-should-we-be-afraid/

Hair, Joseph F., William C., B., Barry J. , B., & Rolph E. , A. (2014). Multivariate Data Analysis, 7th Edition. Essex: Pearson Education Limited.

Hariwijaya M., Budi, Triton P. (2008). Pedoman Penulisan Ilmiah Proposal dan Skripsi. Tugu Publisher.

King, W.R and He, J. (2006). A Meta-Analysis of The Technology Acceptance Model. Information and Management, Vol. 43 No. 6, pp. 740-755.

Lazar, Michael. (2018). The 12 Ironclad Rules for Issuing Press Releases. https://neilpatel.com/blog/ironclad-rules-for-press/

Lederer, A.L., Maupin, D.J., Sena, M.P. and Zhuang, Y. (2000). The Technology Acceptance Model and The World Wild Web. Decision Support Systems, Vol. 29 No. 3, pp. 269-282.

Lynch, C. (2018). How PR pros should prepare for artificial intelligence. Ragan's PR daily. Retrieved from https://www.prdaily.com/Main/Articles/482543a6-4e1f-4111-af8b-9e46019028cc.aspx.

Malhotra, Naresh K., Nunan, Dan, Birks, David F. (2017). Marketing Research: An Applied Approach. Pearson Education Limited

Mizanie, Dina, Irwansyah. (2019). Pemanfaatan Media Sosial Sebagai Strategi Kehumasan Digital di Era Revolusi Industri 4.0. Komunikasi, Vol. XIII No. 02, September 2019: 149-164

Neuman, W. (2014). Social Research Methods: Qualitative and Quantitative Approaches Seventh Edition. Essex: Pearson Education Limited.

Pambudi, Sigit Tri, Utami, Yenni Sri, Wiendijarti, Ida. (2019). Curriculum Development of Public Relations Study Programs in Era 4.0. International Conference on Technology, Education and Sciences. ISSN: 978-602-6258-14-4

Pavlik, K. V. (2007). Mapping The Consequences of Technology on Public Relations. Retrieved from: Institute for Public Relations http://citeseerx.ist.psu.edu/viewdoc/download?doi=10.1.1.129.6285&rep=rep1&type=pdf.

Rouhiainen, Lasse. (2018). Artificial Intelligence, 101 things you must know today about our future. Amazon Books, USA.

Schwab, K. (2016). The Fourth Industrial Revolution. Geneva: World Economic Forum.

Tilson, D. J. (2017). From The Natural World to Artificial Intelligence: Public Relations as Convenantal Stewardship. In B. R. Brunner (Ed.). The Moral Compass of Public Relations (pp. 206–222). New York: Routledge.

The Future of Jobs. Working Paper, University of Oxford: https://www.oxfordmartin.ox.ac.uk/downloads/academic/future-of-employment.pdf

Ustundag, A., & Cevikcan, E. (2018). Industry 4.0: Managing The Digital Transformation. Cham: Springer.

Valin, Jean. (2018). Discussion paper, Humans Still Needed: An Analysis of Skills and Tools in Public Relations. Chartered Institute of Public Relations. United Kingdom. https://www.cipr.co.uk/sites/default/files/11497_CIPR_AlinPR_A4_vy.pdf.

Venkatesh, V., Morris, M., Davis, G., & Davis, F. (2003). User Acceptance of Information Technology: Toward a unified view. MIS Quarterly, 27(3), 425-478.

Williams, Hannah. (2018). How to Write a Press Release That'll Secure you PR. https://www.meltwater.com/uk/blog/write-press-release-thatll-secure-pr/

Yaxley, H. (2018). Outro. In A. Theaker, & H. Yaxley (Eds.). The Public Relations Toolkit: An Essentials Guide to Successful Public Relations Practice (pp. 147–150). Lon-don: Routledge.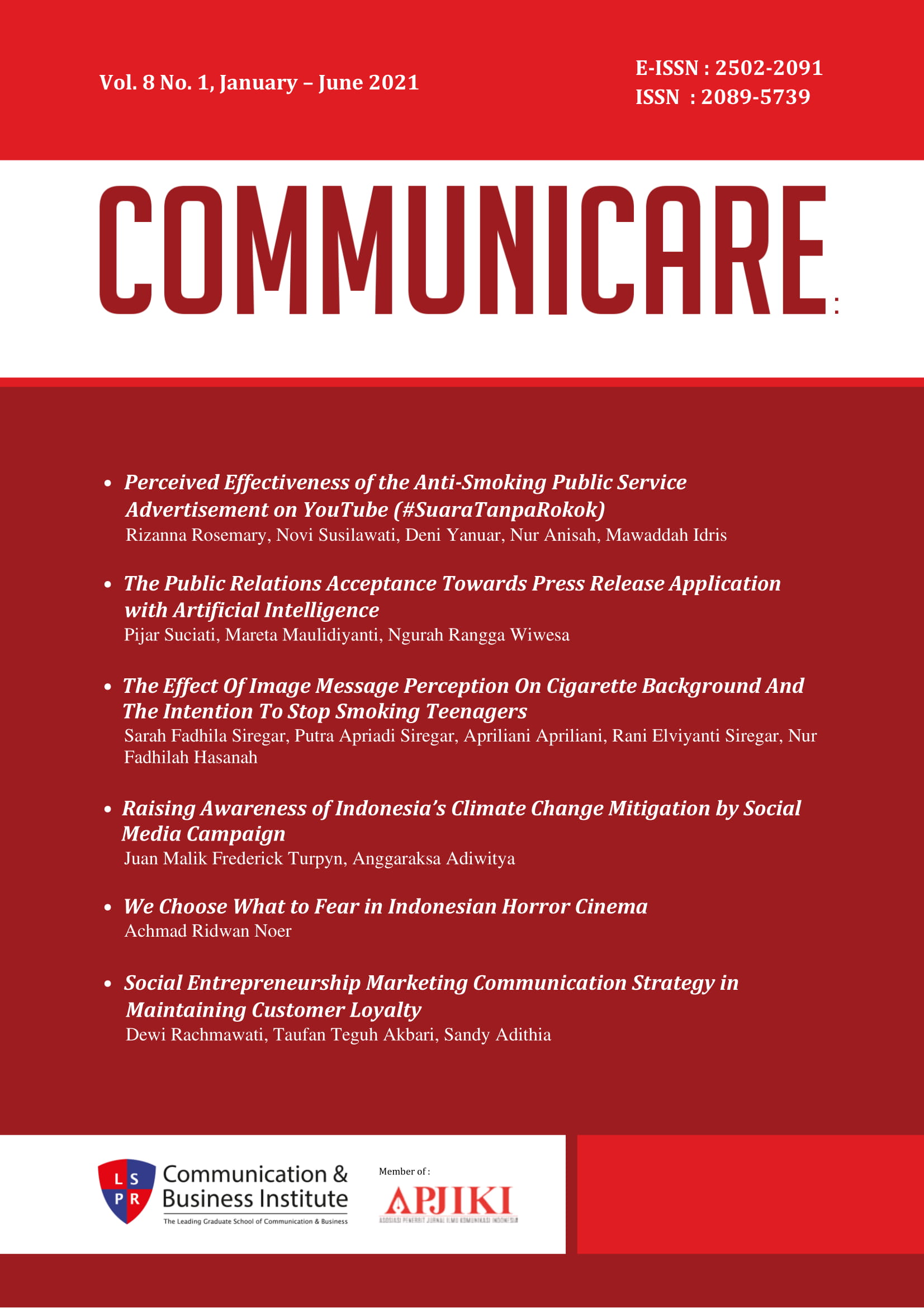 Downloads
How to Cite
Suciati, P., Maulidiyanti, M., & Wiwesa, N. R. (2021). The Public Relations Acceptance Towards Press Release Application with Artificial Intelligence. Communicare : Journal of Communication Studies, 8(1), 20–40. https://doi.org/10.37535/101008120212
License
Bagi artikel yang dimuat di Jurnal Communicare, berlaku aturan Hak Cipta sebagai berikut:
Jurnal Communicare adalah pemegang hak untuk mempublikasikan artikel untuk pertama kalinya.
Penulis tetap memegang hak cipta atas karya tulis yang terbit di Jurnal Communicare, dan dapat menggunakan karyanya dengan bebas, selama tidak melanggar peraturan.
Karya yang dimuat di Jurnal Communicare berada dibawah lisensi Creative Commons Attribution 4.0 International License