Current Issue
Vol 8 No 1 (2021): Communicare : Journal of Communication Studies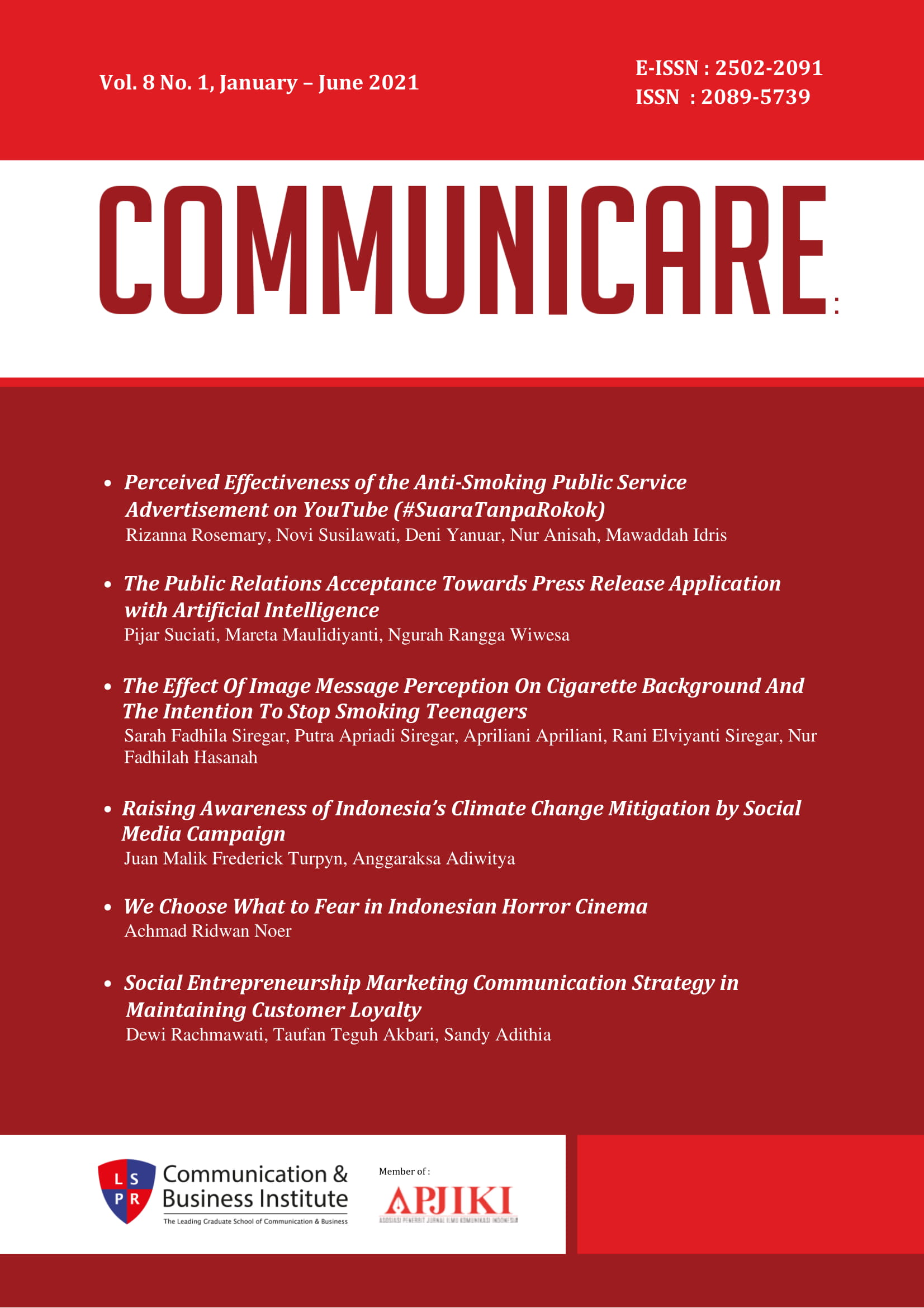 Communicare: Journal of Communication Studies or commonly called the Journal of Communicare LSPR, is a journal in the field of Communication Studies with  ISSN 2089-5739 (print) and E-ISSN 2502-2091 (online). Communicare: Journal of Communication Studies is published by Lembaga Penelitian, Publikasi, dan Pengabdian Masyarakat (LP3M) / Center for Research, Publication and Community Service of LSPR Communication and Business Institute. It is a member of the Indonesian Journal of Communication Studies Management Association (APJIKI) since February 14, 2017. On August 8, 2019, Communicare: Journal of Communication Studies signed an MoU with the Indonesian Association of Communication Scholars (ISKI), which marked the cooperation between the two parties. Communicare is accredited with a Sinta 4 rating by Ristekdikti starting on September 26, 2019, with decree number 28/E/KPT/2019.
The name Communicare is taken from the Latin word "Communicare," which means "sharing," "receiving," and "joining." Communicare wished to be a bridge for communication between humans, share views about communication science, and be open and caring. Communicare was first published in a print edition in 2013, registered and had a print ISSN in 2015, and began switching to digital editions and E-ISSN in 2016. Over time, Communicare Journal underwent several changes and adjustments. For more details, please access our Journal History.
Publishing Schedule
Communicare: Journal of Communication Studies is published twice a year, every June and December.
Focus and Scope
Communicare focused on the area of Communication Studies. The scope of the Journal (but not limited out other issues in the area of Communication Sciences) are on the following matters:
Public Relations
Mass Media Communication and Social Media Communication
Marketing Communication
Digital Media Communications & Advertising
Performing Arts Communication
International Relations Communications
Entrepreneurship and Business Communication
Hospitality Communication Management & MICE
Environmental Communication
Political Communication
Media and Communication Literacy
Journalism
Publication Ethics & Peer Review Process
Communicare: Journal of Communication Studies is subject to COPE's Best Practice Guidelines for Journal Editors. For details, please access the Publication Ethics section.
Every article that is submitted to the Journal of Communicare will go through a series of review processes. The process used is double-blind peer-reviewed. This process ensures that the author and reviewer both do not know each other's identities. This is done to maintain objectivity in the ongoing review process.
The review process is carried out after the article goes through the initial editing process.
In the review process, reviewers are encouraged to pay attention to originality, objectivity, methodology, scientific impact, conclusions, and references in the article.
This underlies the editor to carry out the next process, accepting the article, revision, or rejection of the article.
Article manuscripts will be rejected if:
It is not matched with the journal scope.
It does not follow author guidelines and is not willing to make adjustments.
More than 20% of plagiarism is indicated.
It contains topics or discussions that promote cigarettes or cigarette companies.
Open Access Policy
Communicare: Journal of Communication Studies supports the broadest possible open access to knowledge by opening research results published in this journal to be accessible to all and be used as much as possible.
Open access policy Communicare: Journal of Communication Studies is supported by using the Creative Commons Attribution ShareAlike 4.0 International License. 
For more details regarding the provisions and others, please access the menu on the sidebar.
View All Issues