Pengaruh Konten Instagram Ads @Luxebarbershop Terhadap Peningkatan Brand Awareness
Keywords:
instagram ads, brand awareness, barbershop
Abstract
Di era yang serba digital ini, berbagai media sosial memberikan kemudahan dan inovasi untuk bersaing di dunia bisnis demi tujuan positif yang akan dicapai serta sebagai cara baru dalam mendapatkan awareness. Salah satunya adalah Instagram ads, yang memberikan keunggulan untuk mendapatkan lebih banyak brand awareness. Salah satu bisnis barbershop yang menggunakan Instagram ads adalah Luxebarbershop. Penelitian ini bertujuan untuk mengetahui adakah pengaruh dan seberapa besar pengaruh Instagram ads terhadap peningkatan brand awareness Luxebarbershop, Sarinah, Jakarta. Dalam penelitian ini digunakan model kemungkinan elaborasi (Elaboration Likelihood Theory) dengan dua dimensi pengukuran variabel X (Instagram ads) yaitu context, communication, collaboration, connection. Terdapat juga empat dimensi pengukur variabel Y (brand awareness) yaitu unware of a brand, brand recognition, brand recall, top of mind. Penelitian ini menggunakan metode penelitian kuantitatif dengan sampel penelitian diambil melalui kuesioner online kepada 86 orang responden yang belum pernah mengunjungi Luxebarbershop dengan teknik non-probability sampling – purposive sampling. Penilitian ini menghasilkan pernyataan adanya pengaruh antara Instagram ads terhadap peningkatan brand awareness Luxebarbershop, Sarinah, Jakarta. Hasil analisis data juga menunjukkan bahwa Instagram ads memiliki hubungan sangat kuat dan positif dengan nilai koefisien korelasi sebesar 0,914 dan nilai kontribusi sebesar 83,35% terhadap peningkatan brand awareness Luxebarbershop, Sarinah, Jakarta.
References
Durianto, D. (2004). Strategi Menaklukkan Pasar Melalui Riset Ekuitas dan Perilaku Merek. Gramedia Pustaka Utama
Ghozali, I. (2013). Aplikasi Analisis Multivariate dengan Program IBM SPSS 21. Badan Penerbit Universitas Diponegoro.
Lafferty, B. A., Goldsmith, R. E., & Newell, S. J. (2002). The Dual Credibility Model : The Influencer of Corporate and Endorser Credibility on Attitudes and Purchase Intentions. Journal of Marketing Theory and Practice, 10(3), 1-11. https://doi.org/10.1080/10696679.2002.11501916
Khasmir. (2017). Customer Service Excellent: Teori dan Praktik. Raja Grafindo.
Kotler, P., & Keller, K. L (2016). Marketing Management (15th ed.). Pearson Education, Inc.
Nummila, M. (2015). Successful Social Media Marketing on Instagram Case: @minoshoes (No. Publikasi 17669) [Skripsi Sarjana Strata 1, Haaga-Helia University of Applied Sciences]. Theseus.
Patrick, D. P., Bergh, J. V. D., & Geuens, M. (2017). Marketing Communications: A European Perspective. Pearson Education.
Paquette, H. (2013). Social Media as a Marketing Tool: A Literature Review (No. Publikasi 1001) [Makalah Kajian Literatur Magister, University of Rhode Island]. DigitalCommons@URI.
Perloff. R. M. (2010). The Dynamics of Persuassion Communication and Attidues in the 21st Century (4th ed.). Lawrence Eribaum Associates.
Prisgunanto, I. (2014). Komunikasi Pemasaran Era Digital. Prisani Cendekia.
Purwanto, E. A. & Sulistyawati, D. R. (2017). Metode penelitian kuantitatif. Gaya Media.
Rouse, M. (2011, Maret 24). Definition: Social Media Marketing (SMM). TechTarget. https://whatis.techtarget.com/definition/social-media-marketing-SMM
Sagiyanto, A. & Sulfiah, A. (2020). Pemanfaatan Instagram Sebagai Media Promosi Produk Haus Melalui Akun @Haus.Indonesia. Jurnal AKRAB JUARA, 5(2), 97-114.
Siregar, S. (2014). Metode penelitian kuantitatif. Dilengkapi dengan Perbandingan Perhitungan Manual & SPSS. Kencana.
Stanton, W. J. (2003). Manajemen Pemasaran: Analisis, Perencanaan, Pelaksanaan dan pengendalian (Y. Lamarto, Trans.). Erlangga.
Sugiyono. (2015). Metode Penelitian Kuantitatif, kualitatif dan R&D. Alfabeta.
Surachman, S. A. (2008). Dasar-Dasar Manajemen Merek Alat untuk Memenangkan Persaingan. Bayumedia Publishing.
Tarsakoo, P. & Charoensukmongkol, P. (2020). Dimension of social media marketing capabilities and their contribution to business performance of firms in Thailand, Journal of Asia Business Studies, 14(4), 441-461. https://doi.org/10.1108/JABS-07-2018-0204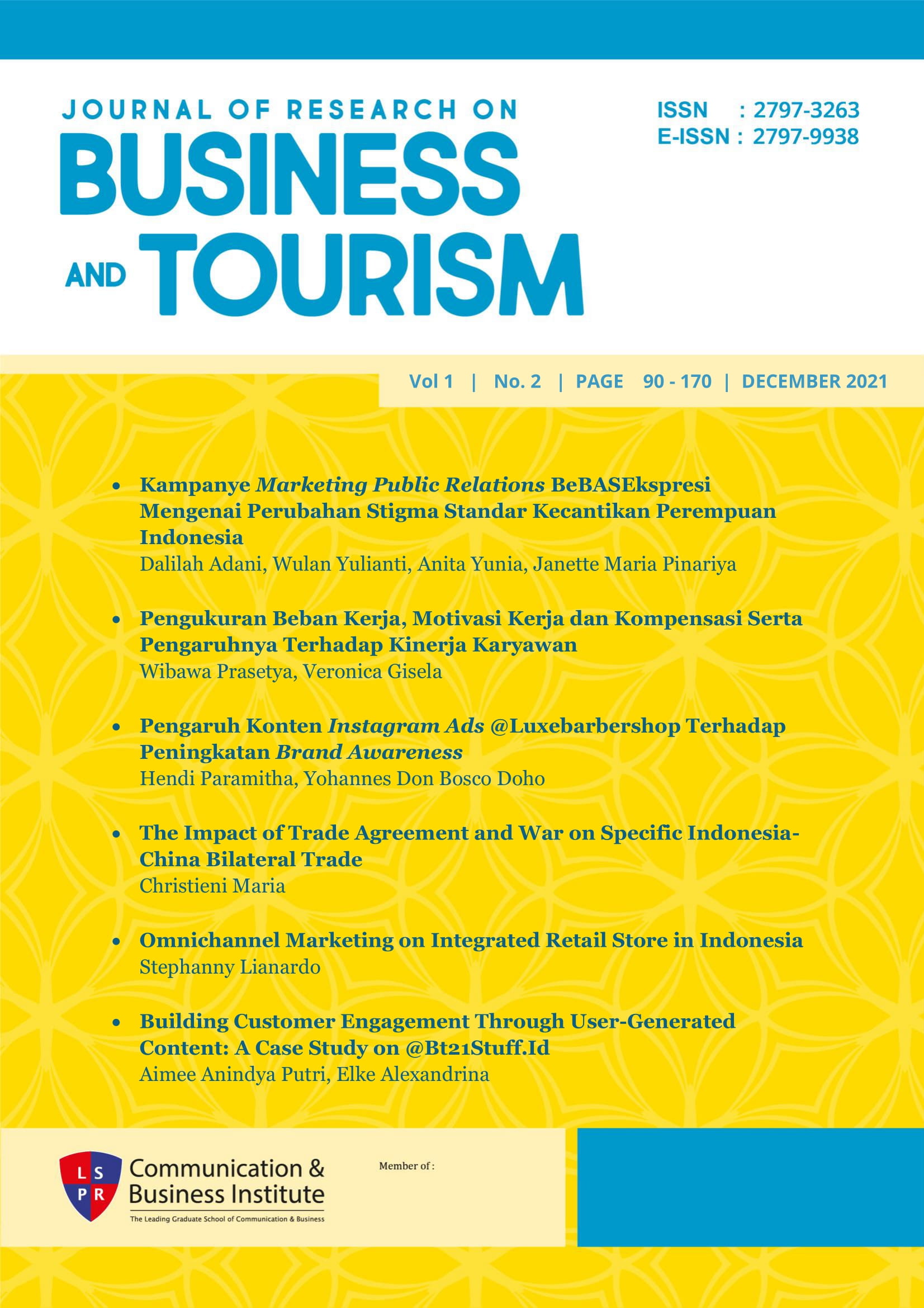 Downloads
How to Cite
Paramitha, H., & Don Bosco Doho, Y. (2021). Pengaruh Konten Instagram Ads @Luxebarbershop Terhadap Peningkatan Brand Awareness. Journal of Research on Business and Tourism, 1(2), 119–127. https://doi.org/10.37535/104001220213