Penerapan Strategi Experiential Marketing pada Klinik Kecantikan Miracle Aesthetic Clinic Kemang Jakarta
Keywords:
Generasi milenial, Experiential Marketing, Strategic Experiential Modules, Experience Providers
Abstract
Penelitian ini dilatarbelakangi oleh tingginya permintaan pasar milenial akan klinik kecantikan yang dapat memberikan tidak hanya solusi perawatan wajah sesuai kebutuhan dan keinginan konsumen. Klinik kecantikan saat ini bersaing dan hadir dengan menawarkan beragam jenis perawatan wajah dan promo untuk menarik pangsa pasar yang sama dengan kegiatan promosi yang serupa. Miracle Clinic Kemang hadir dengan menawarkan sesuatu yang berbeda yaitu memorable experience yang dapat menyentuh sisi emosional konsumen. Untuk menunjang hal tersebut, Miracle Clinic membuat tagline brand-nya yaitu "Experience the Miracle Touch" dan tagline service-nya yaitu "Feel the Miracle Care". Miracle Clinic Kemang menjadikan ini diferensiasi dan ciri khas yang membedakannya dengan klinik kecantikan yang lain. Penelitian ini menggunakan konsep Experiential Marketing yang terdiri dari Strategic Experiential Modules dan Experience Providers dengan pendekatan kualitatif untuk menggali informasi lebih dalam terkait penerapan Experiential Marketing Miracle Clinic Kemang. Penelitian ini menggunakan wawancara semi-terstruktur dengan narasumber internal dan eksternal. Berdasarkan hasil penelitian, ditemukan bahwa penerapan strategi Experiential Marketing yang diterapkan Miracle Clinic Kemang tidak hanya menciptakan emotional benefit dan persepsi yang positif terhadap merek, namun juga mendorong kesetiaan dan kepercayaan konsumen yang berujung pada rekomendasi pribadi.
References
Aronne, C. V., & Vasconcelos, M. C. R. L. (2009). The impact of experiential marketing on the customer's perception of a brand's essence. EnANPAD, 19(23), 1-16.
Asosiasi Penyedia Jasa Internet Indonesia [APJII]. (2018). Penetrasi dan profil perilaku pengguna internet Indonesia. Teknopreneur. www.teknopreneur.com
Bungin, M. B. (2007). Penelitian kualitatif. Kencana Prenada Media Group.
Cresswell, J. W. (2013). Research design pendekatan kualitatif, kuantitatif dan mixed (3rd ed.) (R. K. Pancasari & A. Fawaid, Trans.). Pustaka Pelajar. (Karya asli diterbitkan pada 2009)
Daymon, C., & Holloway, I. (2008). Metode-metode riset kualitatif dalam public relations (C. Wiratama, Trans.). Benteng Pustaka. (Karya asli diterbitkan pada 2002)
Dermaster Indonesia. (n.d.). Tentang. Dermaster Indonesia. https://www.dermaster-indonesia.com/about/index/
Kailani, C., & Ciobotar, N. (2015). Experiential marketing: An efficient tool to leverage marketing communication impact on consumer behavior. International Conference on Marketing and Business Development Journal, 1(1), 281-287.
Kunjana, G. (2018, Maret 20). Industri kosmetik nasional tumbuh 20%. Investor.ID. https://investor.id/archive/industri-kosmetik-nasional-tumbuh-20
Lapido, P. K. A., & Rahim, A. G. (2012). Experiential marketing: An insight into the mind of the consumer. Asian Journal of Business and Managament Sciences, 2(7), 21-26.
Levy, S., & Hino, H. (2016). Emotional brand attachment: a factor in customer-bank relationships. International Journal of Bank Marketing, 34(2), 136-150. dx.doi.org/10.1108/IJBM-06-2015-0092
Lincoln, Y. S., & Denzin, N. K. (2009). Handbook of qualitative research. Sage Publications.
Maryati, K., & Suryawati, J. (2006). Sosiologi. Esis.
Mojo. (2016, Desember 12). Milenial belanja [Infografik]. Tirto.id. https://tirto.id/milenial-belanja-b9tA
Pine, B. & Gilmore, J. (1999). The experience economy. Harvard Business School Press.
Raco, J. R. (2010). Metode penelitian kualitatif: Jenis, karakteristik, dan keunggulannya. Grasindo.
Rajumesh, S. (2014). The impact of consumer experience on brand loyalty: The mediating role of brand attitude. International Journal of Management and Social Sciences Research, 3(1), 2319-4421.
Schmitt, H. B. (1999). Experiential marketing: How to get your customer to sense, feel, think, act and relate to your company and brands. The Free Press.
Schmitt, H. B. (2003). Customer experience management. John Wiley and Sons, Inc.
Sinta, W. (2020, Juni 27). 10 ciri dasar generasi millennial, kamu termasuk gak nih?. Idntimes.com. https://www.idntimes.com/life/inspiration/sinta-wijayanti-d/10-ciri-dasar-generasi-millennial-c1c2/full
Sugiyono. (2012). Memahami penelitian kualitatif (7th ed.). Alfabeta.
Summer, M. (2006). The sage dictionary of social research methods. Sage Publications.
Suryadi, B. (2015, Mei 22-23). Generasi Y: Karakteristik, masalah, dan peran konselor. Dalam I.M. Suarta (Chair), The role of Professional Counselling in Preparing Human Resources Facing the Asean Economic Community [Presentasi Makalah] Seminar dan Workshop Internasional MALINDO 4, Bali. https://repository.uinjkt.ac.id/dspace/bitstream/123456789/34351/1/BAMBANG%20SURYADI.pdf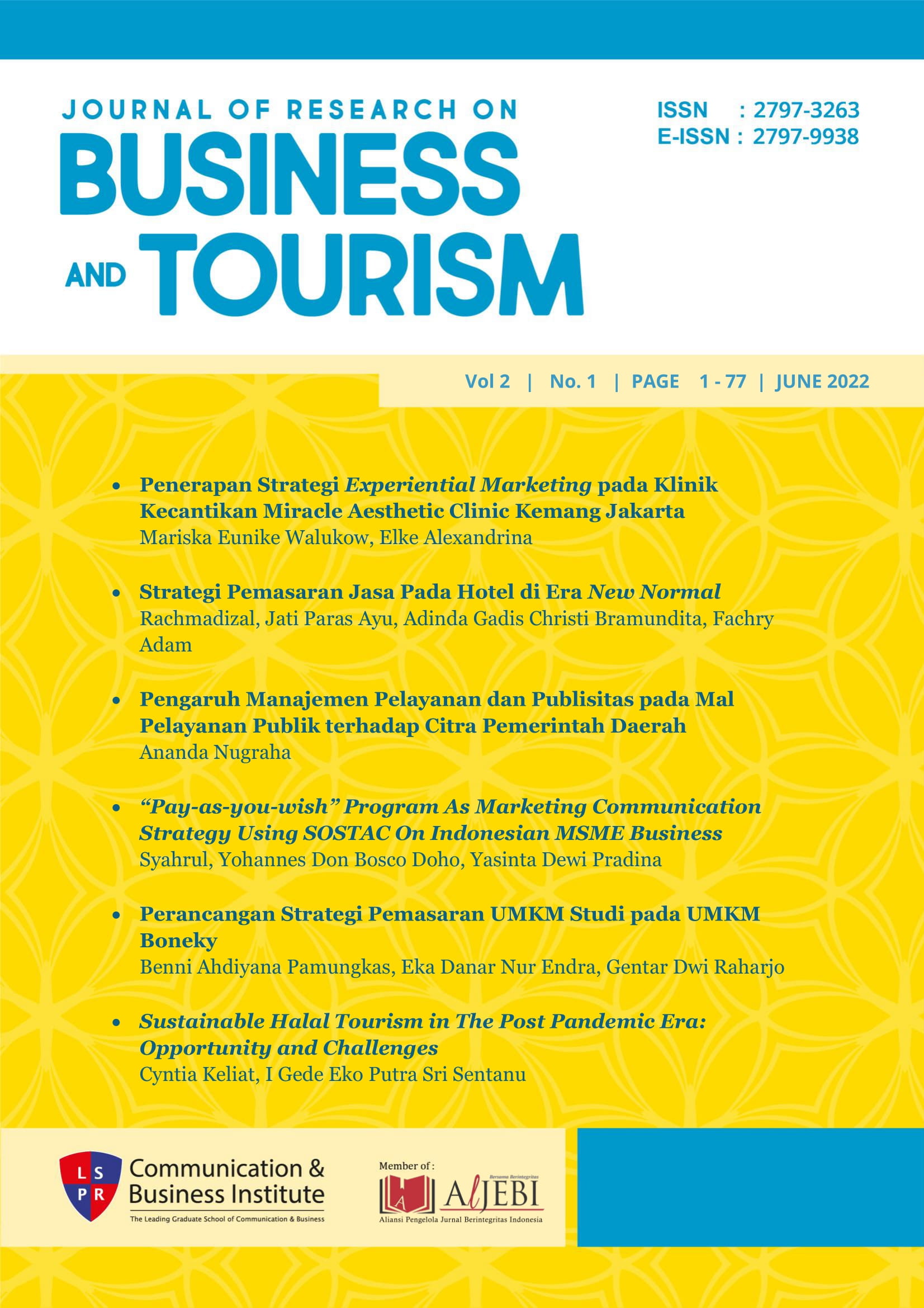 Downloads
How to Cite
Walukow, M. E., & Alexandrina, E. (2022). Penerapan Strategi Experiential Marketing pada Klinik Kecantikan Miracle Aesthetic Clinic Kemang Jakarta. Journal of Research on Business and Tourism, 2(1), 1–14. https://doi.org/10.37535/104002120221