Perancangan Strategi Pemasaran UMKM Studi pada UMKM Boneky
Keywords:
UMKM, Pemasaran, Strategi, SWOT, merek
Abstract
UMKM sebagai pilar perekonomian Indonesia merupakan salah satu penyumbang produk domestik bruto Indonesia, namun disisi lain UMKM juga memiliki beragam kelemahan seperti produk yang belum terstandar, pengelolaan manajemen dan promosi yang belum optimal. Penelitian ini bertujuan untuk merancang perencanaan pemasaran bagi UMKM agar mampu menggunakan kekuatan untuk meminimalkan kelemahan. Penelitian ini menggunakan desain riset ekploratori dengan  pendekatan kualitatif melalui metode wawancara mendalam serta analisis SWOT untuk menentukan strategi yang tepat. Subjek penelitian ini adalah UMKM Boneky dari Bandung. Temuan utama penelitian menunjukkan empat strategi yang disarankan yaitu, integrasi, branding, peningkatan kemampuan manajerial, optimalisasi digital marketing.
References
Adawiyah, W. R. (2013). Faktor Penghambat Pertumbuhan Usaha Mikro Kecil Menengah (UMKM): Studi di Kabupaten Banyumas. Sustainable Competitive Advantage (SCA), 1(1).
Adithia, S., & Jaya, M. P. P. (2021). Strategi Pemasaran Digital Produk Minuman Kopi di Masa Pandemi. Journal of Research on Business and Tourism, 1(1), 37-46. https://doi.org/10.37535/104001120213
Astini, R., & Adhiprasetyo, R. (2010). Strategi Bisnis Pada PT Wirapati Garuda Paksi. Journal The WINNERS, 11(1), 66-80. https://doi.org/10.21512/tw.v11i1.701
Ayu, J. P. (2021). Perencanaan Model Bisnis pada UMKM dalam Mengembangkan Oleh-oleh Khas Bekasi. Journal of Research on Business and Tourism, 1(1), 75-89.
Castillo, A. E., Pacheco, G. V., Manotas, E. N., & Guzmán, J. E. (2022). Interaction between dimensions of innovation on micro, small, and medium-sized export enterprises. Procedia Computer Science, 198, 584-589. https://doi.org/10.1016/j.procs.2021.12.290
Catriana, E. (2021, Desember 29). Kaleidoskop 2021: Tahun Penuh Harapan bagi Pelaku UMKM. Kompas.com. https://money.kompas.com/read/2021/12/29/114430626/kaleidoskop-2021-tahun-penuh-harapan-bagi-pelaku-umkm?page=all.
David, F. R. (2015). Strategic Management, Concepts and Cases (15th ed.). Prentice Hall.
Dey, P. K., Malesios, C., Chowdhury, S., Saha, K., Budhwar, P., & De, D. (2022). Adoption of circular economy practices in small and medium-sized enterprises: Evidence from Europe. International Journal of Production Economics, 248, 108496. https://doi.org/10.1016/j.ijpe.2022.108496
Fatihudin, D., & Firmansyah, A. (2019). Pemasaran Jasa: (Strategi, Mengukur Kepuasan Dan Loyalitas Pelanggan). CV Budi Utama
Febriyantoro, M. T., & Arisandi, D. (2018). Pemanfaatan digital marketing bagi usaha mikro, kecil dan menengah pada era masyarakat ekonomi ASEAN. JMD: Jurnal Riset Manajemen & Bisnis Dewantara, 1(2), 61-76. https://doi.org/10.26533/jmd.v1i2.175
Harahap, E. F., Luviana, L., & Huda, N. (2020). Tinjauan Defisit Fiskal, Ekspor, Impor Dan Jumlah Umkm Terhadap Pertumbuhan Ekonomi Indonesia. Jurnal Benefita, 5(2), 151-161. http://doi.org/10.22216/jbe.v5i2.4907
Kotler, P., & Keller, K. L. (2016). Marketing Management (15th ed). Pearson Education, Inc.
Malhotra, N. K., Nunan, D., & Birks, D. F. (2017). Marketing research: an applied approach (7th ed). Pearson.
Miles, M. B., Huberman, A. M., & Saldaña, J. (2014). Qualitative data analysis: A methods sourcebook (3rd ed.). Sage Publications.
Moniz, K., & Bishop, T., (2016). Principle and Technique of Marketing Management. College Publishing House
Novita, D. (2020). Implementasi Digital Marketing Dalam Membangun Brand Awareness (Studi Kasus Pada UMKM Bencoolan). Forum Ilmiah Indonusa, 17(1), 87-96.
Pemerintah Terus Perkuat UMKM Melalui Berbagai Bentuk Bantuan. (2021, September 27). Kementerian Keuangan Republik Indonesia. https://www.kemenkeu.go.id/publikasi/berita/pemerintah-terus-perkuat-umkm-melalui-berbagai-bentuk-bantuan
Parida, D. K., & Kumar, P. D. (2020). Digital Marketing Strategy For Wearable Device Industry: Conceptual Framework. International Journal of Scientific & Technology Research, 9(4), 1363-1366.
Rengganawati, H., & Taufik, Y. (2020). Analisis Pelaksanaan Digital Marketing pada UMKM Tahu Rohmat di Kuningan. Komversal: Jurnal Komunikasi Universal, 2(1), 28-50.
Shafi, M., Liu, J., & Ren, W. (2020). Impact of COVID-19 pandemic on micro, small, and medium-sized Enterprises operating in Pakistan. Research in Globalization, 2, 100018. https://doi.org/10.1016/j.resglo.2020.100018
Zide, O., & Jokonya, O. (2022). Factors affecting the adoption of Data Management as a Service (DMaaS) in Small and Medium Enterprises (SMEs). Procedia Computer Science, 196, 340-347. https://doi.org/10.1016/j.procs.2021.12.022
Platform Digital Marketing Terpopuler di Indonesia. (2019. July 6). Katarsa.id. https://katarsa.id/id/2019/07/06/5-platform-digital-marketing-terpopuler-indonesia/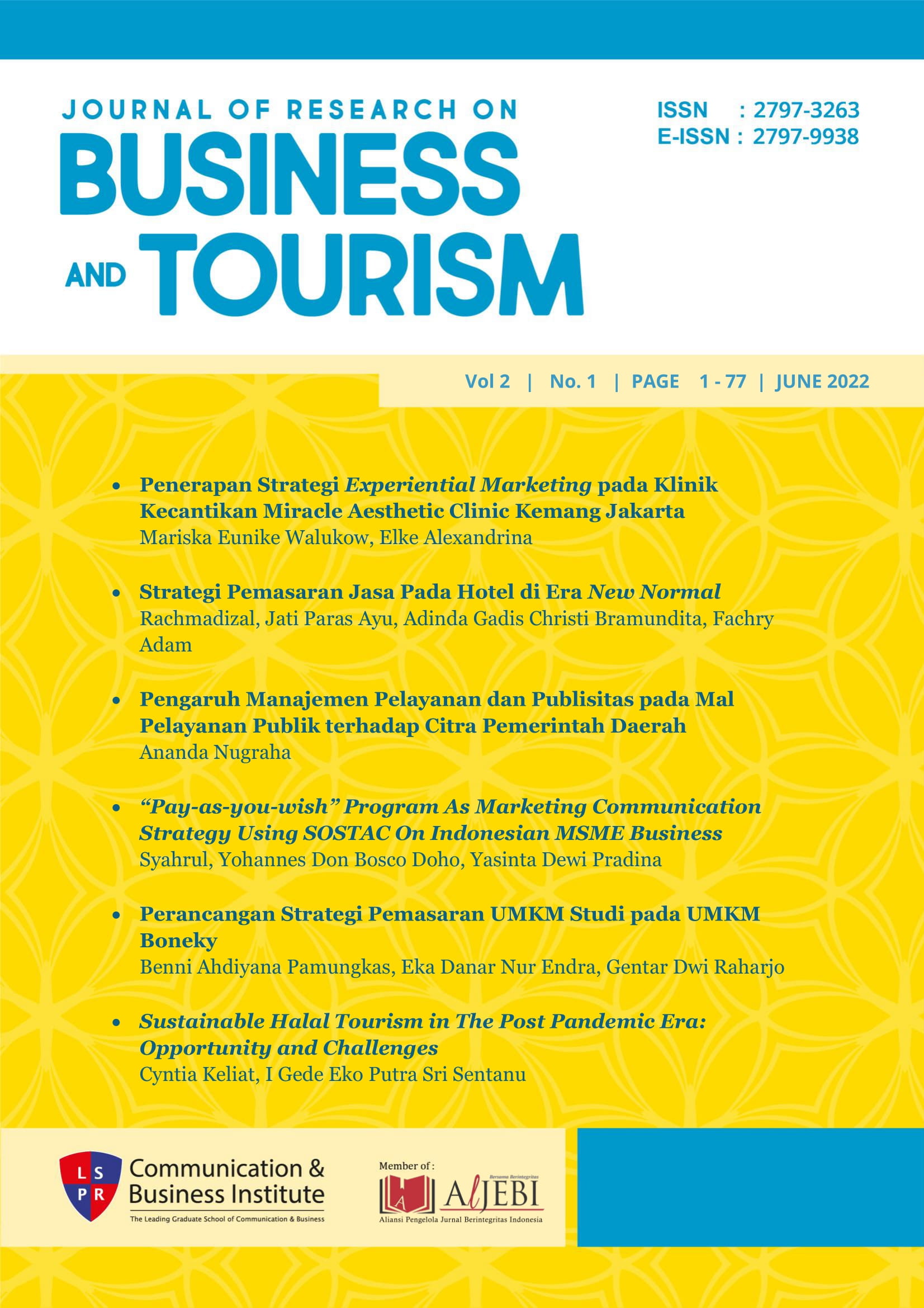 Downloads
How to Cite
Pamungkas, B. A., Endra, E. D. N., & Raharjo, G. D. (2022). Perancangan Strategi Pemasaran UMKM Studi pada UMKM Boneky. Journal of Research on Business and Tourism, 2(1), 57–68. https://doi.org/10.37535/104002120225