Social Media as Communication Strategy for Susi Pudjiastuti to Build Maritime Security Awareness in Indonesia
Keywords:
social media, communication, susi pudjiastuti, maritime security
Abstract
Indonesia faces a number of serious and urgent challenges in the area of maritime security; including, Illegal, Unreported and Unregulated Fishing, Maritime Plastic Pollution, and serious Transnational Organised Crimes such as human trafficking and forced labour. One figure in Indonesian politics stands out for her efforts to eradicate these crimes, Susi Pudjiastuti, the Indonesian Minister for Marine Affairs and Fisheries since 2014. Minister Pudjiastuti has been remarkable both for her enforcement of previously-unutilized laws to seize and destroy illegal vessels, and her use of social media to promote awareness and action within the general public. The thesis takes a mixed methodology approach to measure and analyse Pudjiastuti's strategic use of social media as a key weapon in her fight against crime in the maritime sector. Through quantitative and qualititave analysis of Pujiastuti's Instagram and Twitter posts, the thesis reveals a very high level of influence, awareness-raising and engagement with her message. Her innovative used of social media indicates a new paradigm of direct, transparent political engagement with the public that sets a high benchmark for other Indonesian leaders and politicians.
Indonesia menghadapi sejumlah tantangan serius dan mendesak dalam sektor ketahanan laut. Termasuk penangkapan ikan dan masuknya kapal asing secara liar, polusi sampah plastik, hingga berbagai kejahatan transnasional yang terorganisir seperti perdagangan manusia, penyelundupan narkotika, dan kerja paksa. Salah seorang figur politisi Indonesia yang mencuri perhatian dunia dengan kegigihannya memberantas pelanggaran tersebut ialah Susi Pudjiastuti, Menteri Perikanan dan Kelautan Republik Indonesia, periode 2014-2019. Artikel ini meneliti tentang strategi komunikasi Susi Pudjiastuti dalam memanfaatkan media sosialnya sebagai strategi utama demi membangun kesadaran akan pentingnya ketahanan laut di Indonesia. Melalui pendekatan mixed-methodology, secara kuantitatif dan kualitatif, penelitian ini berfokus pada pengukuran dan analisa konten pesan serta interaksi yang ada di Instagram dan Twitter Susi Pudjiastuti. Penelitian ini menggunakan teori komunikasi pemerintah oleh Canel & Sanders, media baru oleh Marshall McLuhan, dan juga Humanistic Leadership Modeloleh Robert Blake dan Jane Mouton. Dalam penelitian ini ditemukan hasil bahwa Susi Pudjiastuti telah membuat sebuat inovasi komunikasi politik dalam tataran birokrasi Indonesia yang kini menjadi lebih dekat, bersifat langsung tanpa perantara, dan transparan. Temuan lainnya menyatakan bahwa yang dilakukan oleh Susi Pudjiastuti bahkan menjadi tolak ukur bagi politisi dan pemimpin lainnya.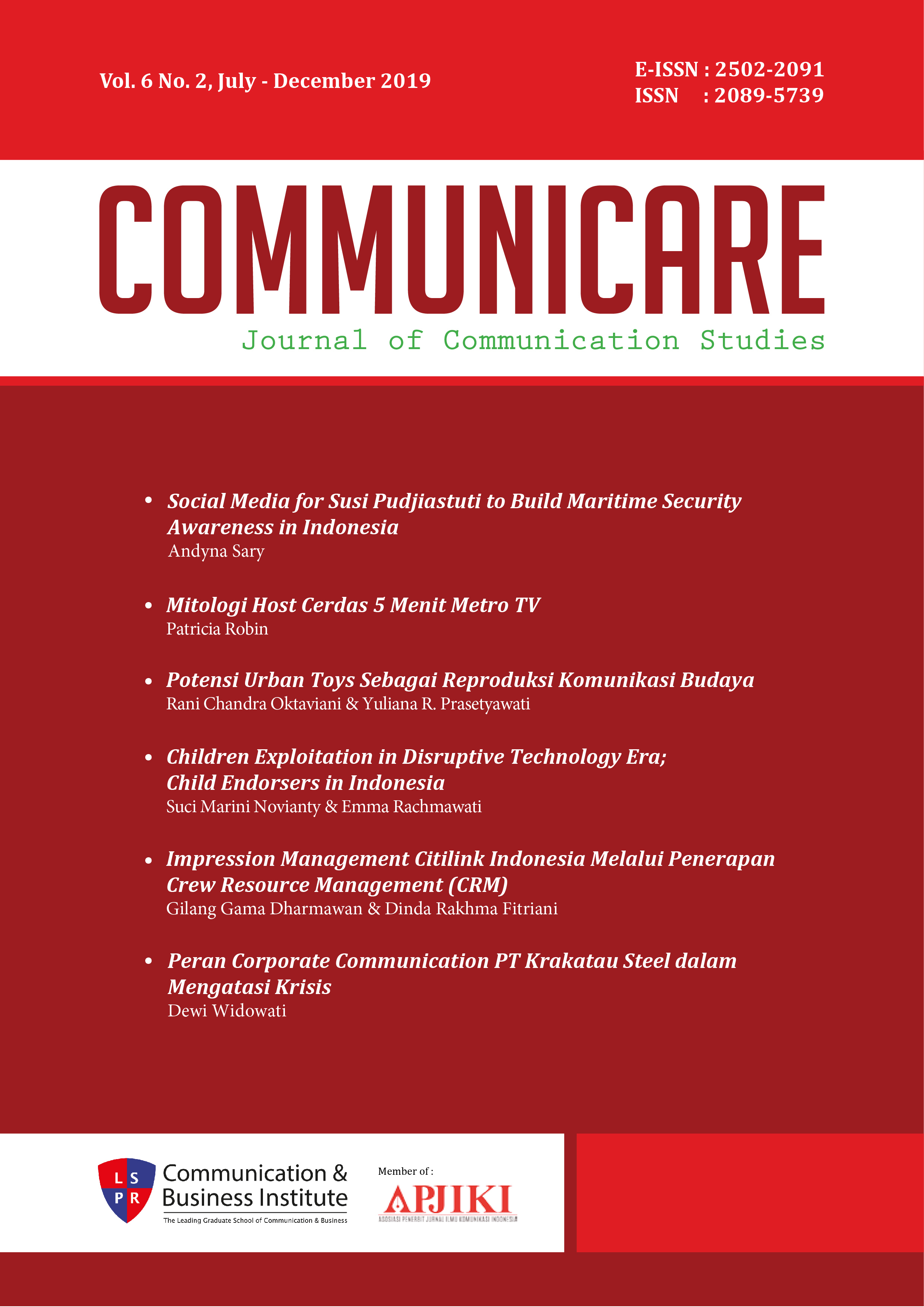 This work is licensed under a Creative Commons Attribution 4.0 International License.
Bagi artikel yang dimuat di Jurnal Communicare, berlaku aturan Hak Cipta sebagai berikut:
Jurnal Communicare adalah pemegang hak untuk mempublikasikan artikel untuk pertama kalinya.
Penulis tetap memegang hak cipta atas karya tulis yang terbit di Jurnal Communicare, dan dapat menggunakan karyanya dengan bebas, selama tidak melanggar peraturan.
Karya yang dimuat di Jurnal Communicare berada dibawah lisensi Creative Commons Attribution 4.0 International License