Pengukuran Beban Kerja, Motivasi Kerja dan Kompensasi Serta Pengaruhnya Terhadap Kinerja Karyawan
Keywords:
Beban Kerja Mental, NASA-TLX, Motivasi Kerja, JDS, SEM
Abstract
Saat ini perkembangan industri semakin pesat sehingga perusahaan harus memiliki keunggulan yang lebih baik dibandingkan dengan perusahaan lainnya. Penelitian ini bertujuan untuk mengetahui pengaruh variabel kompensasi, beban kerja, dan motivasi kerja terhadap kinerja karyawan. Pengukuran beban kerja mental digunakan metode NASA-TLX sedangkan pengukuran tingkat motivasi kerja digunakan metode JDS. Pengolahan data menggunakan metode Structural Equation Modelling (SEM). Hasil dari penelitian ini adalah tingkat beban kerja mental karyawan dan motivasi kerja yang tinggi. Terdapat 4 hipotesis yang berpengaruh yaitu kompensasi dan beban kerja berpengaruh secara posistif terhadap motivasi kerja, kompensasi dan motivasi kerja berpengaruh positif terhadap kinerja karyawan. Berdasarkan hasil hipotesis yang telah diuji maka perusahaan perlu untuk meningkatkan kinerja karyawan sesuai dengan implikasi manajerial yang diusulkan.
References
Anita, J., Aziz, N., & Yunus, M. (2019). The Effect of Placement and Work Load on Work Motivation and Its Impact on Employee Work Performance at Labor and Population Mobility Agency of Aceh Province, Indonesia. International Journal of Scientific & Technology Research, 8(4), 225-229.
Bollen, K. A. (1989). Structural Equations with Latent Variables. John Wley & Sons, Inc.
Brown, H. D. (2000). Principles of language learning and teaching. The Free Press.
Budiman, A., Husaini, H., & Arifin, S. (2016). Hubungan Antara Umur dan Indeks Beban Kerja dengan Kelelahan pada Pekerja di PT. Karias Tabing Kencana. Jurnal Berkala Kesehatan, 1(2), 121-129. http://dx.doi.org/10.20527/jbk.v1i2.3151
Garbutt, D. (2010). Kas Management (A. Basalamah, Trans.). Pustaka Binaman Pressindo. (Karya Asli terbit 1985)
Ghozali, I. & Fuad. (2005). Structural Equation Modeling. Badan Penerbit Universitas Diponogoro.
Hancock, P. & Meshkati (1998). Human Mental Workload. North Holland.
Handoko, T. H. (2001). Manajemen Personalia dan Sumber Daya Manusia (2nd ed.). BPFE.
Hariandja, M. T. (2002). Manajemen Sumber Daya Manusia. Grasindo.
Hasibuan, M. S. P. (2000). Manajemen Sumber Daya Manusia. Bumi Aksara.
Imlawal, T. & Winarningsih. (2016). Pengaruh Gaji dan Motivasi Kerja Terhadap Kinerja Karyawan Players Pool N Lounge. Jurnal Ilmu dan Riset Manajemen, 5(2).
Kasmir. (2016). Manajemen Sumber Daya Manusia, Teori dan Praktik. Raja Grafindo Persada.
Kotler, P. (1997). Marketing Management "Analysis, Planning, Implementation and Control" (9th ed.). Prentice Hall International, Inc.
Munandar, A. S. (2006). Psikologi Industri dan Organisasi. UI Press.
Oktaviana, P. A. (2015). Pengaruh Beban Kerja dan Komunikasi Terhadap Motivasi Serta Dampaknya Pada Kinerja Karyawan (No. Publikasi 17091) [Skripsi Sarjana, Universitas Dian Nuswantoro Semarang]. UDiNus Repository.
Omolayo, B.O. & Omole, O. C. (2013). Influence of mental workload on job performance. International Journal of Humanities and Social Science, 3(15), 238-246.
Paramitadewi, K. F. (2017). Pengaruh Beban Kerja dan Kompensasi Terhadap Kinerja Pegawai Sekretariat Pemerintah Daerah Kabupaten Tabanan. E-Jurnal Manajemen, 6(6), 3370-3397.
Porter, M.E. (1986). Competitive Strategy: Techniques for Analyzing Industries and Competitors. The Free Press.
Putri, U. L., & Handayani, N. U. (2017). Analisis Beban Kerja Mental dengan Metode NASA TLX pada Departemen Logistik PT ABC. Industrial Engineering Online Journal, 6(2).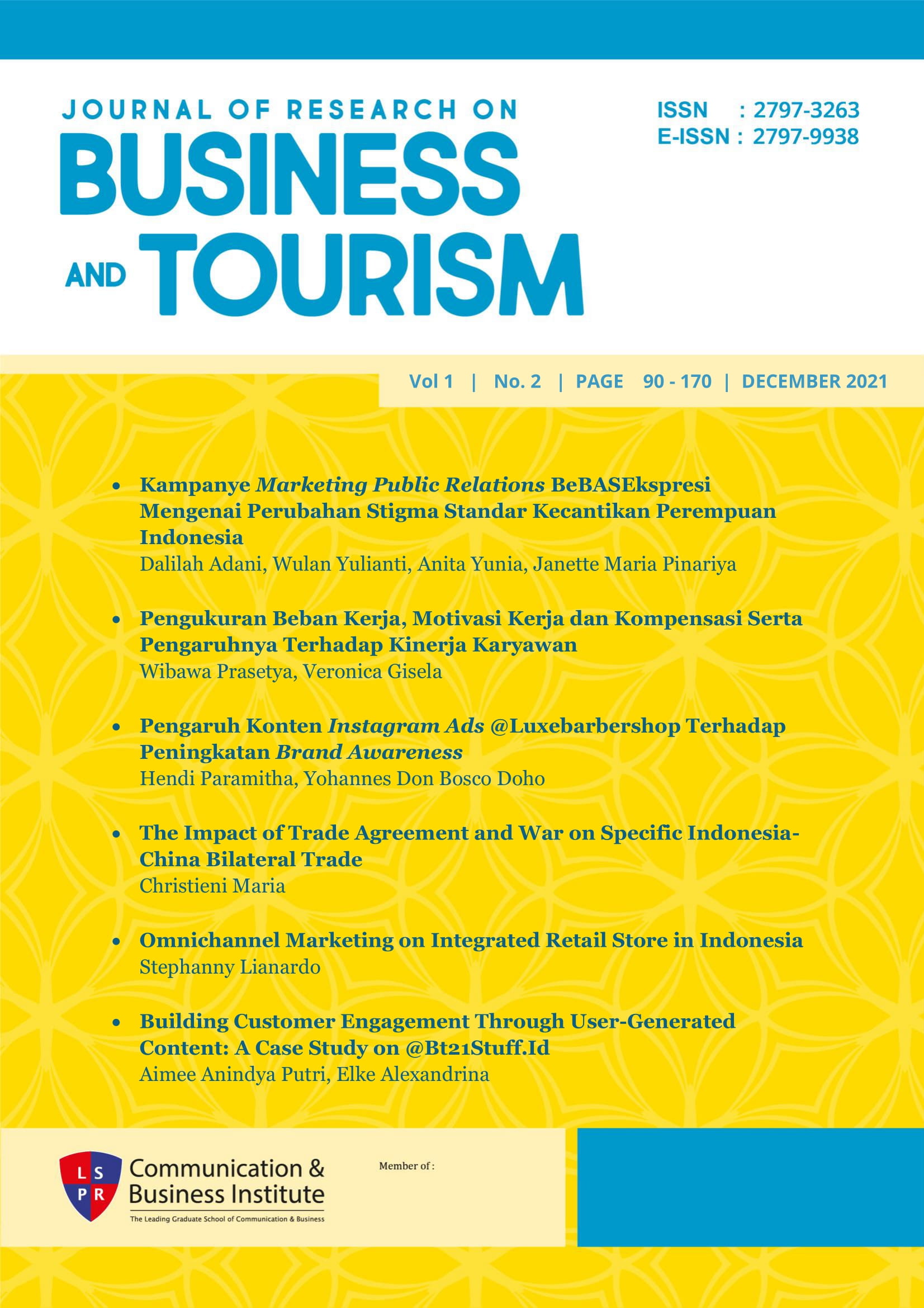 Downloads
How to Cite
Prasetya, W., & Gisela, V. (2021). Pengukuran Beban Kerja, Motivasi Kerja dan Kompensasi Serta Pengaruhnya Terhadap Kinerja Karyawan. Journal of Research on Business and Tourism, 1(2), 101–118. https://doi.org/10.37535/104001220212