Omnichannel Marketing on Integrated Retail Store in Indonesia
Keywords:
Omnichannel marketing, integrated retail store, customer experience, seamless experience
Abstract
Omnichannel marketing should focus on creating an immersive environment in order to create a seamless experience for the customers. In this research, we are looking into the omnichannel marketing applied by PT. Erafone DotCom to integrate their fairly new online platform with their existing physical store and the public perspective toward it. We find out that despite the public being familiar with their physical store, the public is still largely unaware and unfamiliar with the existence of eraspace.com as the online platform of Erafone thus rendering the omnichannel marketing to be less effective. We also look into the public perspective of the idea of omnichannel marketing that has been applied by PT. Erafone DotCom and analyze how to improve the public awareness about eraspace.com and what strategy to improve the omnichannel marketing that has been applied in order to create an immersive environment for the customers to have seamless experience in shopping with Erafone and/or eraspace.com.
References
Becker, M. (2016). The Differences Between Multichannel & Omnichannel Marketing. EMARSYS. https://emarsys.com/learn/blog/multi-channel-marketing-omnichannel/
Berman, B. & Thelen, S. (2018). Planning and implementing an effective omnichannel marketing program. International Journal of Retail & Distribution Management, 46(7), 598-614. https://doi.org/10.1108/IJRDM-08-2016-0131
Erajaya (2020). Company Profile. Erajaya. from https://www.erajaya.com/company-profile
Erajaya (2020). Subsidiaries & Affiliates. https://www.erajaya.com/subsidiary-companies
Fauzie, Y.Y. (2019, June 25). Meneropong Masa Depan Ritel di Tengah Badai Gulung Tikar. CNN Indonesia. https://www.cnnindonesia.com/ekonomi/20190625115907-92-406174/meneropong-masa-depan-ritel-di-tengah-badai-gulung-tikar
Gao, F., Agrawal, V., & Cui, S. (2018). The Effect of Multi-Channel and Omni-Channel Retailing on Physical Stores. Forthcoming in Management Science. https://dx.doi.org/10.2139/ssrn.3212274
Harris, E. (2012, May 17). A Look At Omni-Channel Retailing. Retail It Insights. https://www.retailitinsights.com/doc/a-look-at-omni-channel-retailing-0001
Hossain, T. M. T., Akter, S., Kattiyapornpong, U., & Dwivedi, Y. (2020). Reconceptualizing Integration Quality Dynamics for Omnichannel Marketing. Industrial Marketing Management, 87, 225-241. https://doi.org/10.1016/j.indmarman.2019.12.006
Johnston, R. and Kong, X. (2011). The customer experience: a road-map for improvement. Managing Service Quality, 21(1), 5-24. http://dx.doi.org/10.1108/09604521111100225
Kemp, S., & Moey, S. (2019, September 18). Digital 2019 Spotlight: Ecommerce in Indonesia. DataReportal. https://datareportal.com/reports/digital-2019-ecommerce-in-indonesia
Müller, J. (2020, February 19). Penetration of leading social networks in Indonesia as of 3rd quarter 2019. Statista. https://www.statista.com/statistics/284437/indonesia-social-network-penetration/
Skrovan, S. (2017, February 22). Why most shoppers still choose brick-and-mortar stores over e-commerce. Retail Dive. https://www.retaildive.com/news/why-most-shoppers-still-choose-brick-and-mortar-stores-over-e-commerce/436068/
THE JAKARTA POST (2019, August 14). The top five e-wallet apps in Indonesia. The Jakarta Post. https://www.thejakartapost.com/life/2019/08/14/the-top-five-e-wallet-apps-in-indonesia.html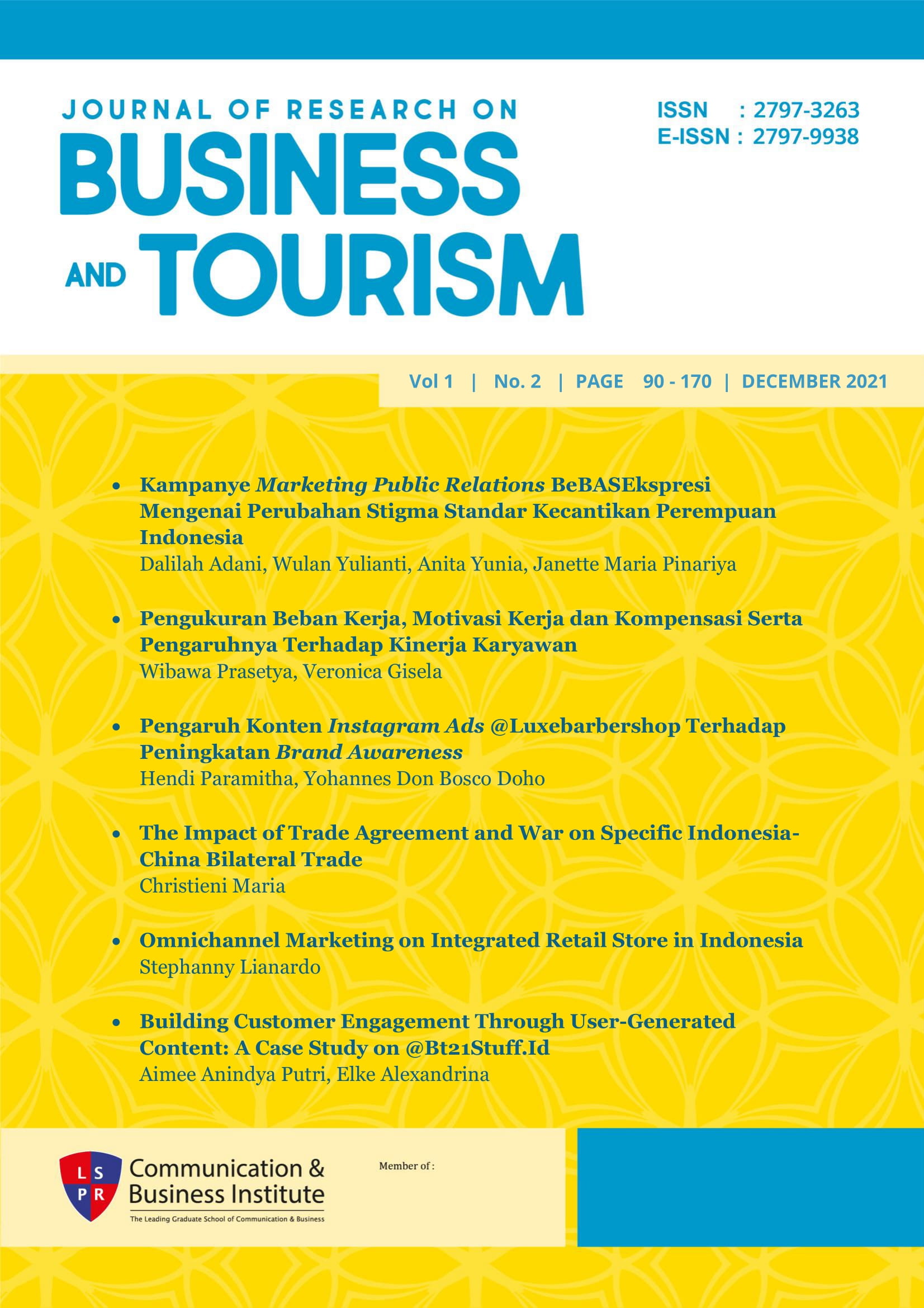 Downloads
How to Cite
Lianardo, S. (2022). Omnichannel Marketing on Integrated Retail Store in Indonesia. Journal of Research on Business and Tourism, 1(2), 148–156. https://doi.org/10.37535/104001220215