Economy Media Strategy of Kompas TV Facing Digital Era
Keywords:
digital, technology, media industry, economy media
Abstract
The transition from analog television to digital is not the end of television evolution. People no longer consume traditional media as much as they did in the past, moreover audience members are more empowered than at any other time in media history. Audience members no longer just consume content—they can also make content in a multitude of ways, whether through blogging, podcasting, uploading videos, or social networking. The market became the determinant of the death of the media industry. This condition allows the industry to become "cannibal". Media industry must be supported by strong capital for infrastructure, highly competitive human resources (professional for production and distribution) and professional management. The amount of advertising spend are affected. The growth of advertising spends in 2017 were positive but slowly, it decreased by 2%. Ad spending has a downward trend, in 2017 growth was only 8% compared to the previous year's growth of 20%. The way Kompas discover this challenge by set a new strategy, known as economy media theory. Media economics referred to business operation and financial activities of companies that produce and sell their products to media industries.
References
Agus Sudibyo & Nezar Patria (2013) The Television Industry in Post-authoritarian Indonesia, Journal of Contemporary Asia, 43:2, 257-275, DOI: 10.1080/00472336.2012.757434
Amy Sindik & Geoffrey Graybeal (2011) Newspaper Micropayments and Millennial Generation Acceptance: A Brand Loyalty Perspective, Journal of Media Business Studies, 8:1, 69-85, DOI: 10.1080/16522354.2011.11073519
Boyd-Barrett, Olive. (2016). News agencies in the era of the internet. Media Asia Vol 35 no 3 2008 University of South Florida
Creswell, J. (2014). Research design. London: Sage Publications.
Daymon, C & Holloway, I. (2002). Qualitative research methods in public relations and marketing communications. London : Routledge.
Denzin, N.K., and Lincoln Y.S. (2000). Handbook of qualitative method. Thousand Oaks, London : Sage
Drulã, Georgeta (2015). Forms of media convergence and multimedia content – a romanian perspective. 131 – 140. DOI http://dx.doi.org/10.3916/C44-2015-14
Junco, Reynol; Mastrodicasa, Jeanna (2007). Connecting to the Net.Generation: What Higher Education Professionals Need to Know About Today's Students. National Association of Student Personnel Administrators. ISBN 0-931654-48-3.
Farhi, Paul. (2013 October, 1). Washington Post closes sale to Amazon founder Jeff Bezos. Retrieved from https://www.washingtonpost.com/business/economy/washington-post-closes-sale-to-amazon-founder-jeff-bezos/2013/10/01/fca3b16a-2acf-11e3-97a3-ff2758228523_story.html?noredirect=on&utm_term=.29383cd9c231
Lana Gershon & Joshua A. Bell (2013) Introduction: The Newness of New Media, Culture, Theory and Critique, 54:3, 259-264, DOI: 10.1080/14735784.2013.852732 http://edition.cnn.com/2017/05/01/health/young-old-millennial-partner/index.html
Manovich, Lev. "New Media From Borges to HTML." The New Media Reader. Ed. Noah Wardrip-Fruin & Nick Montfort. Cambridge, Massachusetts, 2003. 13-25. ISBN 0-262-23227-8
Margianto, Heru. (2017 September, 12). Harian kompas, kompas.com, dan perubahan media di era digital. Kompas. Retrieved from https://nasional.kompas.com/read/2017/09/12/08364131/harian-kompas-kompascom-dan-perubahan-media-di-era-digital.
Micom, RO. (2017 July, 26). Survei Nielsen : Masyarakat Indonesia makin gemar internetan. Retrieved from http://mediaindonesia.com/read/detail/114722-survei-nielsen-masyarakat-indonesia-makin-gemar-internetan
Netflix subscription model keeps Americans happy. [n.d.] . Retrieved September 17, 2018. From https://www.ariasystems.com/blog/netflix-subscription-model-keeps-americans-happy/
Ole J. Mjøs (2015) International communication and global media: continuity of critical concerns, Communication Research and Practice, 1:3, 267-274, DOI: 10.1080/22041451.2015.1079158
Picard, Robert G. (2000). Media economics, content and diversity : Primary result from a finnish study. 107-119
Tapsell, Ross. (2014). Convergence : the international journal of research into new media technologies 1-16. Platform in Indonesia : challenges and opportunities for media freedom. DOI: 10.1177/1354856514521527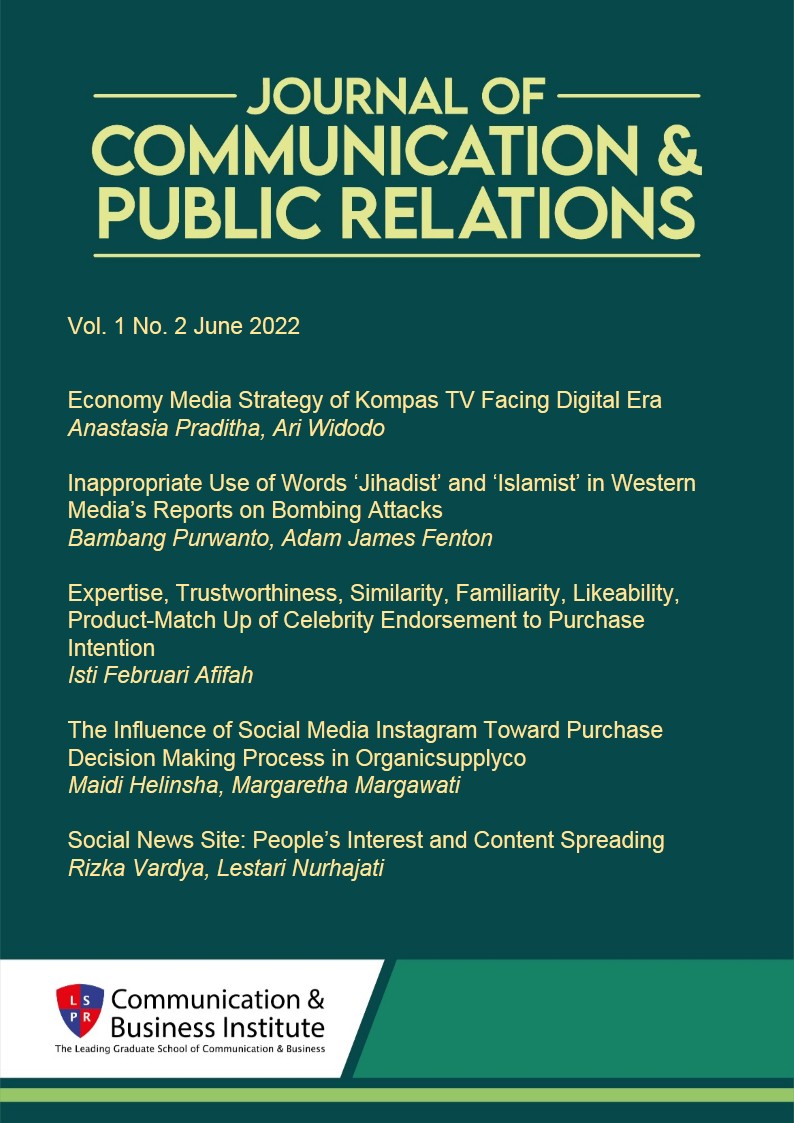 Downloads
How to Cite
Praditha, A. ., & Widodo, A. (2022). Economy Media Strategy of Kompas TV Facing Digital Era. Journal of Communication and Public Relations, 1(2), 1–12. https://doi.org/10.37535/105001220221